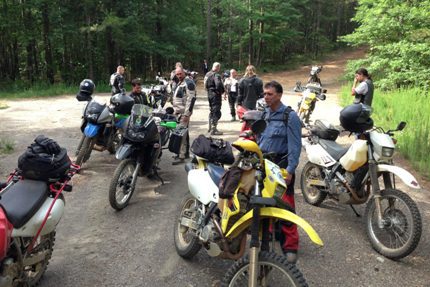 16 Jul 2014

Dual sport riding in Arkansas

by Zoie Clift


Part of the appeal of riding motorcycles is the adventure found on the open road. On a dual sport motorcycle, one suited for both on- and off-road riding, bikers can also venture off paved roads and highways to explore backcountry terrain like dirt roads, gravel roads and jeep trails.

"For every great vista on the highway, there are a hundred nearby on dirt roads," says Scott Smith, an Arkansas-based dual sport rider.


Smith, vice president of Turpentine Creek Wildlife Refuge in Eureka Springs, started riding dual sport bikes about six years ago. He bought an XR650L Honda for $4,500, put on some safety extras and a Corbin seat, and has ridden almost 30,000 miles since.


Smith says dual sport riding provides a different experience than riding on highways. "We ride dirt bikes legal for the road, but we do our best to stay off paved surfaces," he states. "Much like slab riders, we ride with our friends sometimes, but mostly alone, enjoying the solitude and soaking up nature."


According to Smith, what makes Arkansas stand out as a dual sport riding destination is the contrasting topography, the many routes through thousands of miles of back roads and the state's national forests. He says the rivers and creeks also offer views not seen from paved highways.


Smith adds that Arkansas is centrally located and a lure for riders who crave the state's hilly, mountainous roads. "Our people are friendly too; the traveler loves that."


His favorite route in the state is from Turpentine Creek to Oark, through Pettigrew or Red Star. Oark was made "biker famous" by Sam Correro, creator of the Trans-America Trail (TAT), a nearly 5,000-mile dual sport motorcycle route across the U.S. "He was right, they have good pie!," Smith exclaims, referring to what Correro reported about the Oark General Store. "The reason I like this route is there is no definite route between the two places. I make up a new route each time I make the trip. Our back roads make up a huge web of possibilities."


Smith has ridden the western half of the TAT through Arkansas. "Each time I want to keep going all the way to Coos Bay, Oregon, but reality drags me back, and I go to work the next day dreaming about the ride."


The TAT starts in Tennessee and goes west across the U.S. to the Pacific Ocean in Oregon. "You are touring America, and you are seeing the heart of America like it can't be seen from the interstate," Sam Correro shares about the epic trail. "And you stop at all the mom and pop hotels and restaurants… and eat the local food."


As to the story behind the route, Correro, who is based in Mississippi, was looking for places to ride, so he started riding gravel and dirt roads on weekends and connecting the routes together. Pretty soon he had a big loop mapped in Mississippi. He wanted to go further – and Arkansas was the next state he tackled.


Correro contacted the Arkansas State Highway and Transportation Department and bought county maps that showed the state's gravel and dirt roads. He began riding and exploring the terrain. "My first couple of days in Arkansas proved to be good, and I thought, well, I'm just going to keep going," he shares. "And I made my way into the Arkansas Ozarks, and to the Oklahoma state line."


And then he kept going, eventually making it out to the coast of Oregon. It took him 12 years' worth of weekends and vacation time to map the entire TAT. "It was a labor of love is what it was," he says.


After he finished mapping the trail, he built a website that included detailed information such as rider reports, gas stop locations, restaurants, lodging, places to cross rivers and interstates and where to access maps and roll-charts. Now dual sport riders from across the nation and world come to ride the trail. Correro explains the ride between Clinton and Bartlesville, Okla., on the TAT is one of his favorite two days of riding.


Smith adds, "dual sport riding serves up images and experiences you cannot find on the [paved] road, all in the near absence of cars and trucks. We respect our backwoods property owners and love our mountains. Minimalism is practiced, while at the same time you have to be able to fix your bike in the middle of nowhere. If you choose to get involved [in the sport], be safe, ride within your skills and wave at the locals."
For more information on the Trans-America Trail, visit transamtrail.com.

Also, Scott Smith organizes the Arkansas 500 dual sport ride each year as a benefit for Turpentine Creek Wildlife Refuge. This multi-day event covers 500 miles of back roads in Arkansas. For more details, visit arkansas500.com.

One more resource Smith shares is how he's met others interested in this activity. To check out first person accounts and advice, head to the Adventure Rider Motorcycle Forum at advrider.com.

(Zoie Clift is a travel writer for the Arkansas Department of Parks and Tourism.)