By Don Bingham
The variety of great dining experiences continues to grow in the Conway and Central Arkansas area. With the addition of Old Chicago Pizza and Pasta, 501 LIFE offers a hearty "welcome!"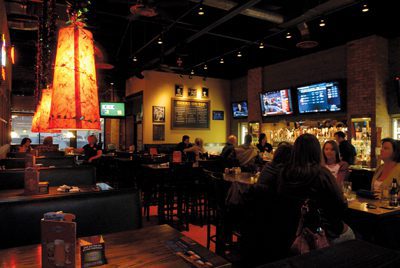 The 188-seating capacity restaurant is located at 1010 Main St. in Downtown Conway, and is open seven days a week for your pizza and pasta pleasure. The atmosphere is reminiscent of old Chicago, with high ceilings and old town charm.
The most popular items on the menu are the Chicago-style pizza and the calzones, but diners will find a wide array of delicious salads, burgers, sandwiches and thin crust or stuffed crust pizzas – all with made-from-scratch dough.
Guests are invited to watch sporting events on large-screen television sets, have lunch, dinner or just drop in for appetizers to share as they enjoy the casual, local neighborhood atmosphere.
It's nice to know, as well, that before the official opening on Sept. 29, that Old Chicago Pizza and Pasta held a special charity event raising $2,360 for Bethlehem House. In lieu of paying for meals and tips, donations were made to this Faulkner County homeless shelter.
General Manager Eric Biedenbender is ready to lend a hand with any information you may need should diners need help creating their own masterpiece, deciding between the many "starters" or the Stromboli, or opting for low-calorie, trans-fat free dishes.
There are 100 Old Chicago Pizza and Pasta establishments nationwide and Conway is fortunate to be one of the newest locations.
Welcome to Conway and the 501, Chicago Pizza!