By Donna Lampkin Stephens
Two more names will enter the annals of Conway sports history this month when Nathan Brown and Bobby Tiner are honored by the Conway Athletic Awards Commission.
Brown, the University of Central Arkansas quarterback who recently finished his career, is the 2009 recipient of the Marvin Delph Award for Sportsman of the Year. Tiner, quarterback for what was then Arkansas State Teachers College, led the Bears from 1963-67. He is the winner of the Elijah Pitts Award for Career Achievement.
"Conway has changed a lot over the years with lots of new people moving in," said David Grimes, who was instrumental in getting the CAAC started several years ago and serves as its chairman. "Conway has such a rich history, a rich sports history, and as we grow we need to make sure we don't forget the past."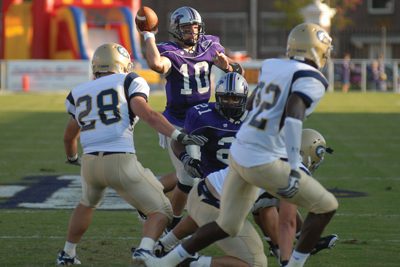 A committee made up of representatives of the local media and colleges chooses the yearly winners.
Delph led Conway High School to state basketball championships in 1973 and '74. He signed with the Arkansas Razorbacks, becoming one of the famous "Triplets" who led the Hogs to the 1978 NCAA Final Four. When he graduated, he was the Hogs' all-time leading scorer and still ranks in the Top 10 today. He is a member of the Arkansas Sports Hall of Fame and the University of Arkansas Sports Hall of Honor.
Pitts was born just outside Mayflower and later moved to Conway and attended the old segregated Pine Street School in the 1950s. After playing college football at Philander Smith, he was drafted by the Green Bay Packers in 1961 where he played on five NFL championship teams under Vince Lombardi. Pitts scored two touchdowns in the first Super Bowl in 1967. He is a member of the Arkansas Sports Hall of Fame and the Green Bay Packer Hall of Fame.
"Obviously, the selection of Nathan Brown is one of the easiest choices we've ever made for Sportsman of the Year," Grimes said. "He and Bobby Tiner represent probably the two finest quarterbacks in UCA history. They played in different eras under different systems, but the committee thought it would be neat to pair them up."
Brown, from Russellville, finished his career with 10,558 passing yards and 100 touchdown passes, both records for Arkansas quarterbacks. He was the Southland Conference Player of the Year in 2008 and the SLC's Offensive Player of the Year in '07. As a senior, he threw for a school-record 3,206 yards and 31 touchdowns with just four interceptions in 375 attempts. As a junior, he set a school record with 235 consecutive passes without an interception.
"My time here at UCA has been nothing but good," Brown said. "It's kind of a bittersweet ending to my career. I'm excited to move on to tackle whatever's next in my life, but at the same time I'll definitely miss UCA. It's been nothing but fun and positive times for me."
Brown will finish his degree in business education by long distance this spring as he prepares for the NFL Draft. Finishing his degree, he said, is a priority.
"For me and my family," he said. "It would mean something to me to be a UCA alum."
Tiner was a Little All-American honorable mention in 1967 and was inducted into the Arkansas Sports Hall of Fame in 1990 and the UCA Sports Hall of Fame in 2001. During 1963, '65-67, he led the team in passing and scoring. His career totals are 6,110 yards of total offense (fourth in school history), 30 touchdowns scored (sixth), 4,304 yards passing (seventh) and 60 single-game passing attempts (first).
Tiner follows his ASTC coach, Raymond Bright, as a Pitts award winner. Bright, who died in 2008, won the award in 2006.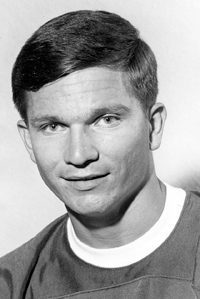 "I don't know of anybody that I respected more as a coach than Raymond Bright, and I don't know of another player I respect more than Nathan Brown," Tiner said. "I get to follow Coach Bright and be up there with Nathan, so it couldn't be any better for me."
Tiner, who grew up in Morrilton, went on to a long coaching career at Pulaski Oak Grove.
"I was in the right place at the right time," he said. "I played for a coach (Bright) who was 30 to 40 years ahead of his time. I loved the conference (the old Arkansas Intercollegiate Conference) we played in. We weren't the best conference in the country, but we were very competitive. It was really the best of both worlds."
Grimes said the Faulkner County Museum contains "a very nice collection of memorabilia from our winners" that includes such items as baseball cards, track shoes and old football programs.
"Each year we get four or five items from each person so we can rotate the collection and keep it fresh," he said.
The luncheon will also feature the Marvin Delph Student-Athlete Awards given to Conway eighth-graders. Winners are Tim Boyd and Abby Mann of Carl Stuart Middle School; Brandon Sargent and McCall Wilkins of Bob Courtway Middle School; Drew Bates and Morgan Kordsmeier of Conway St. Joseph; and Caleb Crawley and Sarah Roberson of Conway Christian School.
The primary sponsor of this year's banquet is Centennial Bank, which is underwriting the cost of the banquet tickets for all eight Marvin Delph Student-Athlete Award winners and their parents
The banquet will also serve as a fundraiser for former Conway High and UCA football player Che Jones who is awaiting a kidney transplant at Arkansas Children's Hospital.
ELIJAH PITTS AWARD
(Career Achievement)
2000 Warren Woodson
2001 Ivan Grove
2002 Doak Campbell
2003 Scottie Pippen
2004 Joe Mallett
2005 Bob Courtway
2006 Raymond Bright
2007 Monte Coleman
MARVIN DELPH AWARD
(Sportsman of the Year)
2000 Lauren Turnbow
2001 Bryce Molder
2002 Tim Cain
2003 Peyton Hillis
2004 Zak Clark
2005 Carone Harris
2006 Julie Coats
2007 Tori Huggins