25 Mar

Doctor 'pulled off a miracle'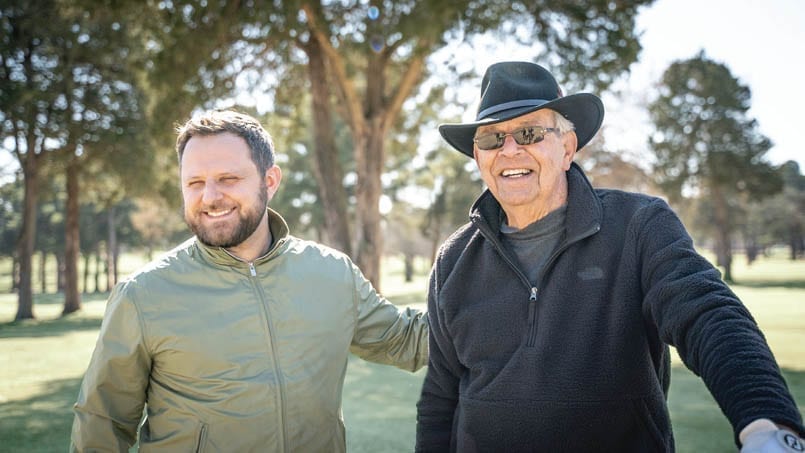 by Taryn Brown
For Searcy resident Jim Baugh Jones, golfing is not just a hobby; it is part of his everyday routine. Jones has been playing golf since the age of 10 and won a number of tournaments. But this past year almost took him out of the game for good.
For more than 15 years, Jones suffered from aches and pain in his leg. The pain caused him to miss playing golf on a regular basis, playing with his grandkids during their beach vacation and doing daily tasks he was accustom to doing.
"Golf has been a big part of my life since I was a boy," Jones said. "I used to go to the course for a couple of hours after work and played golf with a group three times a week. It has been a huge part of my life especially when I retired. I go to church and I play golf. I could barely get through two holes without pain."
He had previously seen three doctors for the pain due to a blocked artery. One doctor performed surgery, which Jones said lasted about eight years, and the other two placed stents to help keep the blocked artery in his leg open, which only lasted 2-3 months. He had just about given up until he heard a new neighbor was moving in next door.
Cardiologist Dr. Ethan Munzinger came to the Unity Health – Cardiology Clinic in 2019 and he specializes in treating vascular disease. He treats patients with conditions in the arteries and veins, as well as those with heart conditions. He and his wife, Logan, moved in next door to Jones and his wife Barbra. After the couple's daughter saw a video from Unity Health of Munzinger on Facebook, she shared it with her parents. Jones said he caught him in the yard and told Munzinger he needed to see him for his leg pain.
"When I saw Dr. Munzinger at the office, I just wanted relief from the pain," Jones said. "I was through with walking in October 2019 because it just hurt too much."
Munzinger said Jones had Peripheral Vascular Disease where an artery in his leg was completely blocked which was causing all his pain. He performed an endovascular procedure to open up the vessel and restore blood flow, and Jones was out of the hospital the same day. After the procedure, Jones immediately went back to the thing he loves. He has been playing golf with no pain since the day he left the hospital.
"It brings joy to me to help patients like Jim Baugh return to the quality of life they had before," Munzinger said. "The medical community here is exceptional; the doctors, nurses and staff are dedicated, and I feel honored to be part of that. Unity Health has been very supportive of this specialty and the technology and equipment they brought into the Cath Lab to treat vascular patients is amazing."
"In my opinion, he pulled off a miracle," Jones said. "I was not expecting to lose the pain and be able to walk and I was walking when I left the hospital."
Today, Jones is back to playing golf almost every day and says he feels like Dr. Munzinger changed his life for the better both physically and mentally.
"I was at the point of quitting," Jones said. "Mentally I am more upbeat and physically I can walk again. I just feel better, that is all there is to it."
For someone who has been a part of this community for years, Jones is thankful to have access to specialized care close to home.
"I think it is an asset to have the hospital and Dr. Munzinger here," Jones said. "You cannot put a value on it to have someone who does this work. Unity Health is a great hospital and I think we are very fortunate to have the facilities available."
The Unity Health – Cardiology Clinic in Searcy sees all adult patients experiencing cardiac and vascular problems and offers high-quality cardiology and vascular services close to home. For more information about cardiology services, visit unity-health.org.