27 Feb 2023

Division of Arkansas Heritage awards nine grants

Posted at 4:51 PMh

in

News

LITTLE ROCK — The Arkansas Department of Parks, Heritage and Tourism recently announced $21,930 in grants for nine historic properties and museums across the state. Funded by the 1/8th-cent conservation tax, the awards help small history museums, historical societies, historic houses and sites, and military museums promote education, awareness and enjoyment of Arkansas history.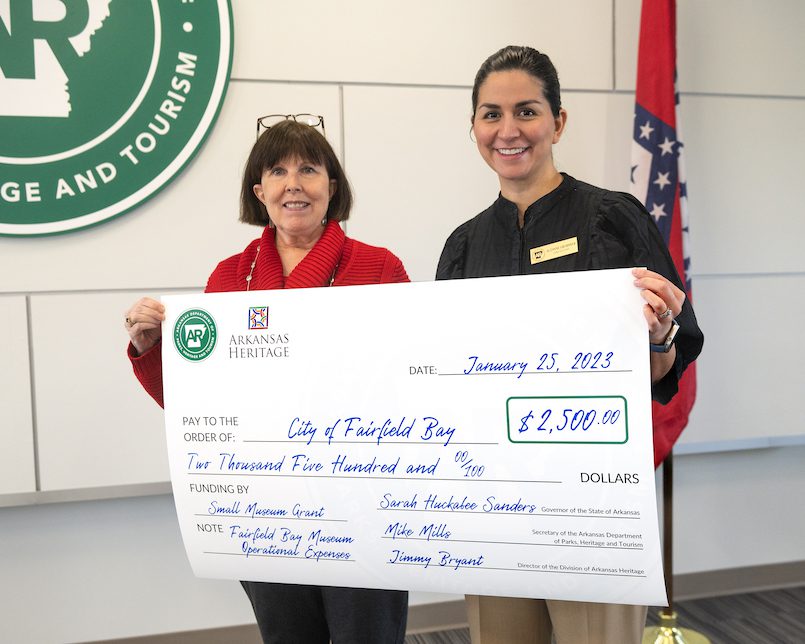 The Small Museum Grants Program aims to increase the ability of community-based small museums and organizations to research, preserve, present and conserve Arkansas history.

Award recipients are:
City of Fairfield Bay, for museum operating expenses, $2,500
Clinton House Museum, CHM Operating Grant, $2,500
Fort Smith Heritage Foundation, for lawn and grounds maintenance, $2,500
Greene County Historical and Genealogical Society, for publishing materials, microfilm and air purifier, $2,500
Helena Museum of Phillips County, to cover utilities, $2,500
Howard County Historical Society, for operating expenses and utilities, $2,500
Logan County Museum Association, for county museum collection management project, $2,500
Old Independence Regional Museum, for museum utilities and scanner, $2,500
Pope County Historical Foundation, clothing and hat preservation project, $1,930
Eligible organizations must have an annual operating budget of $250,000 or less; must have a staff of at least one person, either paid or volunteer; and must be open to the public at least 90 days per year. Eligible activities include buildings and grounds maintenance, operating costs, equipment purchases up to $1,000, accessioning of artifact collections, educational programming, research, exhibits, and website design and maintenance. The maximum grant award is $2,500.