18 Oct 2021

District awards Inspiration in Education Award for first quarter

Posted at 4:02 PMh

in

News

PULASKI COUNTY — The Pulaski County Special School District Board of Education awarded the first quarter "Inspiration in Education" award for the 2021-22 school year at its board meeting on October 12.

Maumelle High school teacher Katrina Jones won the first award for the current school year. In addition to teaching biology and anatomy/physiology, Jones is the varsity and freshman cheer coach at Maumelle High. Jones was selected as the "Inspiration in Education" winner out of 25 nominations from across the District.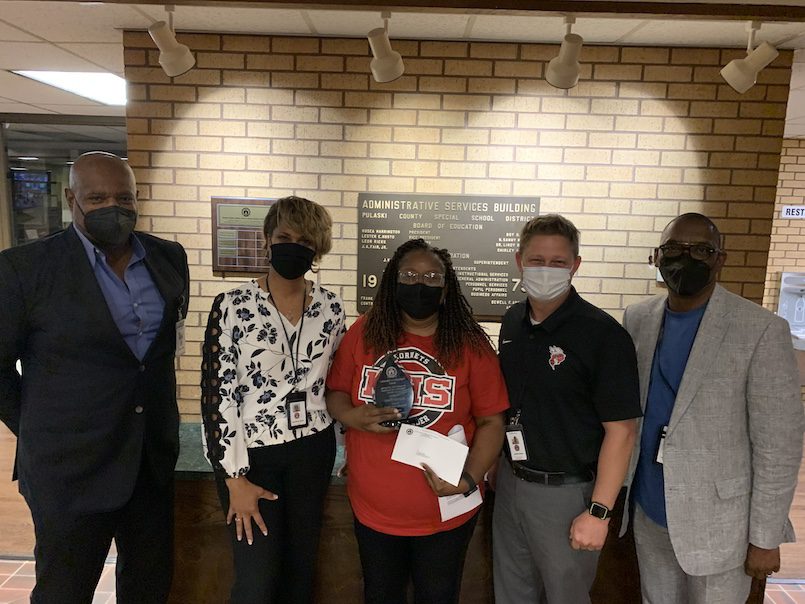 "Ms. Jones is truly an inspirational teacher, leader and friend," said Jessica Wilson, a fellow teacher at the high school. "She builds professional relationships with her students and is highly involved within the school. She works incredibly long hours making sure the groups she is involved with have what they need and that they feel supported to succeed."
The Board of Education created the award to honor certified and support staff members who are inspirational to their students or colleagues in their roles at PCSSD. Additionally, the award recognizes employees who exhibit traits including leadership, mentoring, dedication, excellence and effectiveness in their places of work.
Jones has been teaching for 25 years and her peers say that she treats every day like it's just as exciting as her first day. Her students are engaged in group work and constantly talk about how much they enjoy the topics covered in her classes.
"Seeing the way she leads her students is incredible, and I feel inspired as a younger teacher when I see the work she does," Wilson added.
Tracy Childers, another teacher at Maumelle High School, submitted the second nomination for Jones. She points out that the students and staff have a lot of respect for Jones.
"She goes above and beyond to make certain all needs are met," Childers said. "She is not only a great teacher, but a great mentor for our students," Childers said. "She earned the name 'Momma Jones' [because] students know that she is available to them to offer guidance or just a nonjudgmental ear to listen."
The "Inspiration in Education" award is presented quarterly in October, December, February and May. Anyone may nominate a PCSSD employee for the award. The applications will be reviewed by the Superintendent's Cabinet for ranking, and the highest scorer will be named the quarterly winner and receive the award from the PCSSD Board of Education.