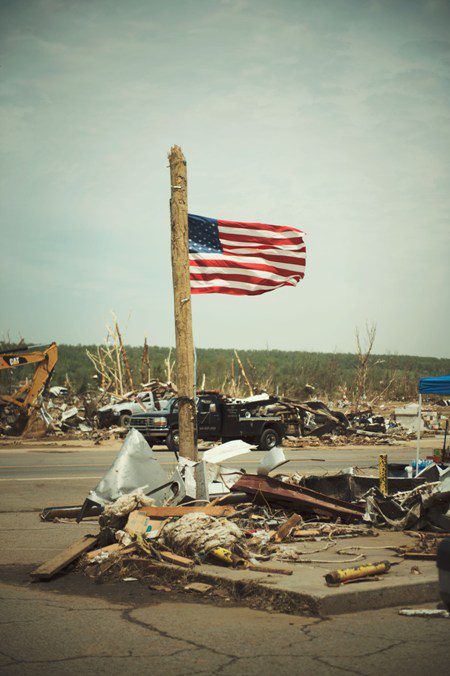 28 Apr

'Devastating tornado' hits the 501

A deadly storm moved through the 501 Sunday night, claiming the lives of at least 15, injuring hundreds and damaging homes, schools and businesses in its path.
According to the National Weather Service, just after 7 p.m., a supercell (storm with rotating updrafts) rapidly intensified northwest of the Little Rock (Pulaski County) area. A destructive tornado was produced, with the tornado tracking through Mayflower and Vilonia in Faulkner County before apparently dissipating (according to radar) near El Paso in White County.

According to the weather service, as of Monday morning, there were 15 fatalities reported. If this number is correct, it would be the deadliest single tornado since the Interstate 30 twister (rated F4) that killed 15 people in Saline and Pulaski counties on March 1, 1997.

Faulkner County Coroner Pat Moore identified those who died in the Mayflower and Vilonia areas and the place of death:

Helen Greer, 72, Plantation Driver, Mayflower.
Mark Bradley, 51, Fortner Road, Mayflower.
Robert Oliver, 82, Dam Road, Mayflower.
Cameron Smith, 8, and Tyler Smith, 7, Cody Lane, Vilonia.
Jamye Collins, 50, Highway 64 Bypass, Vilonia.
Dennis Lavergne, 52, and Glenna Lavergne, 53, Cemetery Road, Vilonia.
Daniel Wassom, 31, Aspen Creek Drive, Vilonia.
Jeffrey Hunter, 22, Clover Ridge Drive, Vilonia.
David Mallory, 57, North Creek Drive, Vilonia
Gov. Mike Beebe held a press conference Monday morning from Mayflower City Hall following the "devastating tornado." He said local, state and federal agencies were continuing search and rescue efforts while working to secure the area and restore essential services, like electricity and phone service.

Conway Regional Medical Center reported Monday morning that physicians and staff had treated about 100 patients for a variety of injuries resulting from a tornado that struck the cities of Mayflower and Vilonia. Nine patients were admitted to the medical center; another 12 patients were transferred to Little Rock hospitals.

"The staff and physicians of Conway Regional Health System would like to express our sympathy and prayers for those who have been affected by this tornado," read a statement on the hospital website.

While access to the areas hardest hit was limited, local agencies, businesses, schools and organizations began mobilizing efforts to collect items to help those affected by the storm.
The United Way of Central Arkansas is among the drop off points for the following supplies:

The office is located at 1120 Oak St. Conway. For more information, call 501.327.5087.