17 Nov 2011

Dempsey Bakery: Delicious, healthy and minus the gluten

by Don Bingham

Paula Dempsey has gluten intolerant family members which led her to open a wonderful, trend-setting bakery. It's one of the brightest additions to the array of culinary offerings in Arkansas!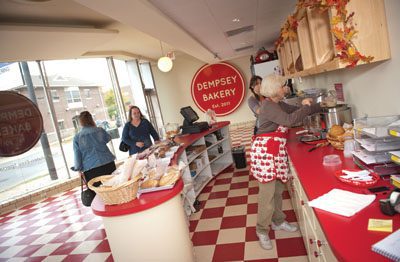 Paula began by cooking for her husband and grandchildren; this is where the love for gluten-free cooking began and then spread as others heard about the delicious, healthy foods and the impact they have on one's diet.
Dempsey Bakery has been open since Sept. 13, and the word is spreading quickly of its manifold offerings. "Everyone's Bread" is non-soy, gluten-free, dairy-free, egg-free, corn-free, tapioca-free and sugar-free — and yet it is incredibly rich in flavor and texture. The products are slightly higher priced than some, but the availability and cost of ingredients raise production cost. The delicious and healthy results are well worth the investment.
The bakery is located at 323 Cross St. in Little Rock in a former car dealership. The great thing about this is the view! There are numerous "larger than life" windows that allow the customer to see our state Capitol in full, glorious view!
Along with the view, try one of the samples of Paula's assortment of cookies, breads and cakes. There are lots and lots of samples under clear plastic domes — just waiting for your approval. The Top Five sellers at the bakery are Everyone's Bread, hamburger and hot dog buns, brownies, snickerdoodle cookies and pumpkin bread. The entire bakery is nut-free, gluten-free, soy-free and tapioca-free!
Dempsey Bakery
323 Cross St.
Little Rock
501.375.2257
10 a.m.-6 p.m.
Tuesday through Friday
9 a.m.-3 p.m. Saturday
On the last two visits I made to Dempsey Bakery, they were sold out of pumpkin bread. I did manage a sample, however, and it is, indeed, worth the trip.
There are seven bakers involved at the current time, and more will surely be needed in the future. One of the bakers is also a fulltime cake decorator. Since September, the bakery has already produced a gluten-free groom's cake and two gluten-free wedding cakes. Even the cupcakes are amazing!
"One of the greatest joys is seeing our customers when they know what a special treat these food items are for their children," Paula said. "And all our products are fresh made, every morning."
The repeat customers come from all over the state of Arkansas — I know, I am one of those! The bakery has plans to offer pies, cakes, cookies, breads and brownies and serve yeast rolls for the holidays. You might want to plan ahead.
The bakery is open 10 a.m.-6 p.m. Tuesday through Friday and 9 a.m. to 3 p.m. Saturday. I'm told you need to arrive early to ensure you get one of the bakery's specialties – the cinnamon rolls! For ordering or more information, call 501.375.2257.
For carryout, there is also the refrigerated cookie dough that you can take home to bake — Paula says this is another real crowd pleaser.
Plans for the future include a soup and salad lunch, which of course will be gluten-free!
The Dempseys are not strangers to Downtown Little Rock, as they have successfully owned and operated Dempsey Film Group for years. This is a new dream that has come to reality for the family.
There is definitely a growing need for this healthy, lifestyle dining option. Celiac disease — an auto-immune disorder – has become a leading dietary challenge in both young and old.
501 LIFE welcomes Dempsey Bakery to the area. We are all about healthy lifestyles! Paula's future goals include having the gluten-free breads in as many retail stores and restaurants as possible! She has already been contacted by one major corporate office. Everyone recognizes and appreciates quality and excellence – Dempsey Bakery offers both!