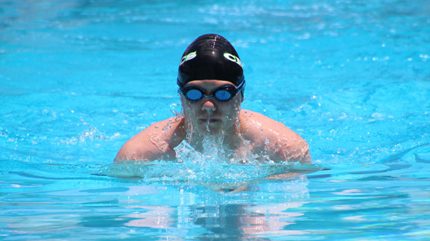 26 Apr 2017

Deadline approaching for Conway Crocs swim program

Young people of all ages will soon be hitting the swimming pool as part of the annual Conway Crocs program offered through the Conway Regional Health and Fitness Center.


Chris Brynell, who started the summer swim team, is the coach.


The swim team offers a great way for children to stay active in the summer, have fun and learn good sportsmanship as they compete against other swim teams in Central Arkansas.


The program is open to young people ages 5 to 18. Participants learn four strokes: freestyle, backstroke, breast-stroke and butterfly.


Participants must pass a swim test before registering for the team. To schedule a test, contact aquatics coordinator Anne Fraley at 501.450.9292 ext. 308. The test will be given at 6:30 p.m. Friday, May 5.


The Conway program is one of eight teams in the Central Arkansas Swim League. Chris previously served as the board president for CASL, which was created more than 25 years ago and has existed to encourage friendly competition between member teams in a family atmosphere that promotes individual and team competition and sportsmanship.


An all-volunteer organization, about 1,200 kids ages 6-18 are represented on all of the summer recreational teams. In addition to the Crocs, the league teams include the Cabot Piranhas, Lakewood Waves, Lonoke Sharkrockets, Maumelle Marlins, Otter Creek Otters, Saline County Barracudas and Sherwood Sharks.


The Central Arkansas Swim League focuses on individual performance, where swimmers work toward improving their times to move up through bronze, silver, gold and platinum levels. Those who qualify can compete in the Meet of Champs.


The registration fee for the Conway Crocs is $120 for fitness center members and $145 for non-members. There is a $25 late fee for registration made May 1 and later. Sunday, May 14, is the deadline to register.


The fee includes a team swimsuit and swim cap. Each swimmer must provide their own goggles.


An informative parent meeting will be held at 6 p.m. Friday, April 28, at the fitness center. Swim team practice will begin Monday, May 22.


For more information, call 501.450.9292.