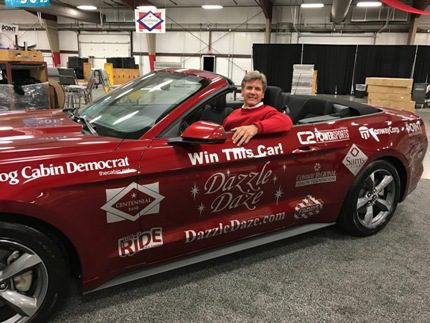 05 Dec 2016

Dazzle Daze Raffle winners named

Posted at 10:01 AMh

in

News

More than 5,000 shoppers attended Dazzle Daze 2016 held in November at the Conway Expo Center and Fairgrounds.

Net proceeds from the event have yet to be determined but funds will go toward health care projects at Conway Regional Health System, including a 3-D mammography expected in January. Dazzle Daze is conducted annually by volunteers with the Conway Regional Women's Council working in conjunction with the Conway Regional Marketing and Foundation team.

Ron Goodman of Greenbrier was the winner of the grand prize in the Dazzle Daze 2016 Raffle, a new red Ford Mustang convertible from Smith Ford of Conway.

Other raffle winners were Elizabeth Wood of Conway, a two-day guided duck hunt for four people donated by Cypress Crossing; Robert Parker of Conway, a Polaris Outlaw ATV from C2 Powersports; Casey Garrett of Greenbrier, a Traeger Grill and $500 gift certificate from Moix RV and Sam's Club-Conway; and Lyle Rupert of Conway, a $1,000 gift certificate to Cajun Brothers Furniture.

Girls Nite Out prizes and winners included: Fletcher Smith Jewelry necklace valued at $1,500, Shirley Montgomery; and Cosmetic Laser Solutions prizes from Conway Women's Med Spa, Mitzi Reynolds, Sallie Lieblong, Jennifer Prince and Angie Montrose.

Reindeer raffle prizes winners included: Schylar Hester, La-Z-Boy recliner from H3 Home + Decor; Christie Proctor, Vera Bradley set from the Conway Regional Women's Council; Tiffany Keathley, Conway Regional Health & Fitness Center membership; Kathy Denys, Ipad mini 2 from Jackson Investment Management; Tammy Johnston, Yeti Cooler and accessories from Associated Farmers Co-op; Brenda Brown, Kids farmhouse table from Hand Hammered Industries; Keith Rogers, photo session and 16 x 20 print from Donna Evans Photography; Michael Ruckle, home security system from Conway Corp; Amanda Berstler, power tool package from Haynes Ace Hardware; and Bill Wiegand, Sam's Gift Card from Sam's Club-Conway.

501 LIFE was a Presenting Sponsor of Dazzle Daze.