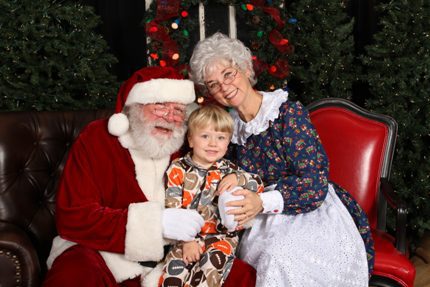 14 Nov 2013

Dazzle Daze Pajama Party with Santa planned for preschoolers

After an enthusiastic response last year, Santa will return to the North Pole at Dazzle Daze.

Santa and Mrs. Claus will host a Pajama Party at the 12th annual Dazzle Daze on Friday, Nov. 22. The Clauses (Joe and Deanie King) have been onsite taking photos, telling stories and adding to the holiday cheer of Dazzle Daze for many years. The Pajama Party came about last year as an effort by photographer Donna Evans and the North Pole Committee to provide an extra fun event for the very young children.


"This way they can come and sort of have their own time with Santa," said Evans. "This is for moms of preschoolers; we are trying to make it really, really fun for them to come and have a party! Santa reads to the kids, we take photos and have treat bags."


She added, "From the eyes of a child who is 2, 3 or 4 years old, Santa is like a rock star. For little kids, it's way fun!"


Doors open for the Pajama Party at 9 a.m. and Santa is expected to make a grand entrance at 9:15 a.m. Another attraction this year: "Mystery elves."


While it is not always easy to get off work at that time of day, North Pole Committee chair Stacia Adams encourages, "Don't hesitate at all; it is worth every bit of the effort. The children absolutely love it. He is so good and patient and kind. It's just a neat experience."


Tickets are $15 per child and limited to the first 100 to sign up. The ticket includes one adult general admission good all day on Friday, story time with Santa, snacks for the child and a photo with Santa. Tickets must be purchased in advance by calling 501.513.5191. Mom can also do some shopping that morning.


Adams adds, "If you really want a fun, personal event where your child really gets up close with Santa this is it."


For those who cannot get enough Santa, he will join Mrs. Claus at the North Pole booth from 4 to 10 p.m. Friday, Nov. 22, and 10 a.m. to 3 p.m. Saturday, Nov. 23.


Other attractions at Dazzle Daze include:

A shopping extravaganza with almost 90 vendors.

Girls Nite Out, 6-9 p.m. Thursday, Nov. 21, featuring the jazz of Rodney Block, early bird holiday shopping, a prize drawing for a $1,000 watch from Fletcher Smith Jewelers or one of two $1,000 med spa gift certificates, Chicks who Click and appetizers by chef Jill McCollum.

Gingerbread House building kits


Food from Taziki's Mediterranean Grill and Moo Moo's frozen yogurt at the Dazzle Deli during general shopping hours from 10 a.m. to 9 p.m. Friday, Nov. 22, and 10 a.m. to 4 p.m. Saturday, Nov. 23.

The Dazzle Daze Raffle, drawing at 4 p.m., Saturday, Nov. 23. This year's prizes include:
a 2014 Ford Mustang Convertible from Smith Ford
a Yamaha fuel injected gas powered golf cart donated by Angela Conrad, Inc.
a $3,000 gift certificate for med spa services donated by Conway Women's MedSpa

a $1,000 furniture gift certificate donated by Cajun Brothers Furniture

a $1,000 fly fishing package for two donated by The Toad Fly