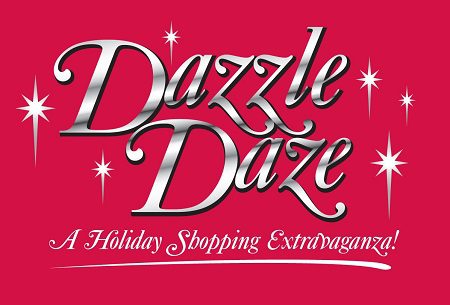 12 Nov

Dazzle Daze helps kick off the holidays

by Sonja J. Keith


While Dazzle Dazes is a fun-filled event focused on holiday shopping, it represents something very special to this year's event co-chairmen Pam Sims and Amy Reed.


"Dazzle Daze is so much more than a fun event and shopping," said Pam. "Proceeds help make possible important equipment purchases, scholarships and other programs that improve the quality of care provided by Conway Regional Health System."


"I just believe in the hospital and what it stands for," said Amy.


Dazzle Daze is presented by the Conway Regional Women's Council and billed as Conway's holiday shopping extravaganza. This year it will be held Thursday, Nov. 16, through Saturday, Nov. 18 at the Conway Expo Center and Fairgrounds.


501 LIFE is a presenting sponsor.


The 16th Annual Dazzle Daze will include a high-value prize raffle, Girls' Nite Out early bird shopping, a Teddy Bear Clinic, reindeer games, appearances and photos with Santa and Mrs. Claus, food and shopping with more than 80 merchants from throughout the country. (See the special insert in this month's edition for more information.)


Throughout its 16-year history, Dazzle Daze has raised more than $650,000 in support of local health care at Conway Regional Health System.


DAZZLE DAZE COMMITTEE


Both Amy and Pam have been involved with the Conway Regional Women's Council and the Dazzle Daze Committee for a number of years.

The committee begins meeting early in the year to plan the event, which traditionally is held the week before Thanksgiving.


In addition to their sub-committee assignments, members and other volunteers can register online to help with Dazzle Daze. About 250 volunteers are involved each year in Dazzle Daze. "You can do as little or as much as you want," Amy said. "This committee is where I've met some of my very best friends."


Pam describes the co-chairs as the "sub-committee cheerleaders," listening to their ideas, encouraging them to dream big and offering help wherever possible.


Both describe Marla Hambuchen, special events coordinator in the foundation office at Conway Regional, as the "backbone" behind the event.

"It's very inspiring for me to be involved and see the work of these smart, engaging and talented women who give for their community," she said.


Working in her official capacity since 2010, Marla has seen the attendance change, from drawing primarily local residents in the early years to include other areas of Arkansas and other states.


Originally held at the Don Owen Sports Complex, Dazzle Daze is now held in the Conway Expo Center and Fairgrounds. Marla said the center has enabled the Dazzle Daze Committee to better accommodate the event's growth. "It's been a huge blessing," said Amy.


JURIED SHOW


Dazzle Daze is a juried show and organizers work to ensure a variety of quality merchandise for shoppers to peruse. Each year, there is a waiting list of merchants who apply to participate.


According to Marla, the event is kind of a trend predictor and an indicator of what is popular based on merchant applications. "A couple of years ago, it was all about Christmas décor and mesh. Everybody had mesh," she said. "Women's clothing is very hot right now and jewelry is always popular."


Marla noted that last year and this year, there is a lot of interest in skincare, bath and beauty products. "That's a very popular category."
Pam added there is a good balance of merchandise, with unique items available for purchase.


"The show is also known for how we treat our merchants," Marla said, adding that the committee provides support from the time they check in to when they are pulling out. "That's a commitment the Dazzle Daze Committee makes every year."


In addition to merchant booths, Santa and Mrs. Claus will be in attendance again this year for professional photographs taken by Donna Evans. "It's a great opportunity for holiday photos and Christmas card photos," said Marla. "We have the best Santa in town."


GIRLS' NITE OUT


"The Girls' Nite Out (GNO) preview party has become a tradition for a lot of women," said Marla.


She added that GNO is known for its swag bag, which is given to the first 500 in the door. The bag contains special gifts – from cosmetics and candles to jewelry and samples.


A special promotion associated with the preview is the annual Dazzle Diva contest. The winner can invite three friends to join her for the evening, which includes tickets, a limousine ride and pampering – all valued at $500. To learn more about the contest, check out the women's council Facebook page.


Donna Evans will be on hand again this year to take "Chicks that Click."


Gina's Catering will provide a delicious menu of heavy hors d'oeuvres during GNO, which will be served in the newly finished area of the expo center.


Marla added there will be a variety of ways for shoppers to register for door prizes at Girls' Nite Out and throughout the show.


NEW THIS YEAR


Kendra Scott is among the merchants participating in this year's Dazzle Daze, with 20 percent of everything sold on Friday donated to the Conway Regional Health Foundation. The company will also provide prizes for Girls' Nite Out and the Reindeer Raffle. "Kendra Scott is a very philanthropic company," Marla said, adding her appreciation to the company for its interest in being involved.


While this year's Dazzle Daze will not include the Pajama Party, organizers are expanding the Teddy Bear clinic which debuted last year. Youngsters are invited to bring their teddy bears or other stuffed animal or doll to the designated clinic hours for a free checkup with a health care professional. The child receives a free stethoscope, surgical cap and shoe covers.


The Teddy Bear Clinic is designed to better familiarize children with what's involved in a checkup, making them more comfortable when they are at the doctor's office. A teddy bear will be available for purchase for $5.


This year, some changes are also coming to the Dazzle Deli, with an expanded variety of choices. Local restaurants Taziki's, Chick-fil-A and TGIFridays will participate.


"We want to make it so shoppers will want to come, stay longer and shop," said Amy.


RAFFLE PRIZES


A staple of Dazzle Daze is a raffle of several big-ticket items. A maximum of 500 raffle tickets are available for purchase by contacting Conway Regional Women's Council members, participating businesses or at the Conway Regional Marketing Office. The drawing will be held at 3:45 p.m. Saturday, Nov. 18.


This year's raffle prizes:

Grand prize: 2017 Ford Mustang Convertible, magnetic color ($31,500 value) from Smith Ford
Second prize: Vintage His and Hers Louis Vuitton Keepall Bags ($2,000 value) donated by Braswell & Son
Third prize: 14-karat white gold Dancing Diamond Pendant ($1,600 value) donated by Lee Ann's Fine Jewelry
Fourth prize: Traeger wood-fired grill and meat gift certificate ($1,200 value) donated by Moix RV and Circle Maker Farms
Fifth prize: Furniture gift certificate ($1,000 value) donated by Cajun Brothers Furniture
HOURS AND TICKETS

Dazzle Daze hours are: Girls Nite Out (6 to 9 p.m. Thursday, Nov. 16), Teddy Bear Clinic (10 a.m. to noon, and 4 to 7 p.m. Friday, Nov. 17, and 10 a.m. to noon Saturday, Nov. 18); General Shopping (10 a.m. to 9 p.m. Friday, Nov. 17, and 10 a.m. to 4 p.m. Saturday, Nov. 18).

Tickets for Dazzle Daze are on sale at dazzledaze.com. Raffle tickets are available for purchase at a number of locations in Conway including Conway Regional Health & Fitness Center, pattiCakes, 501 LIFE, Smith Ford, Log Cabin Democrat, US Pizza Co., H3 Home + Décor, Cajun Brothers Furniture, Model Laundry, H & N Architects, Michelle M. Phillips, CPA, PA, Lee Ann's Fine Jewelry and the Conway Regional Marketing Office as well as Daisy-A-Day and First Security in Greenbrier and La-z-boy Furniture Gallery in Little Rock.

DAZZLE DAZE PROCEEDS

Marla has seen Dazzle Daze proceeds grow and points out that the event is unique from other shows because proceeds generated come back to the community. Dazzle Daze funds have been used to purchase vital health care equipment, from neonatal infant warmers and a cardiac stress diagnostic system to an intra-aortic cardiac balloon pump. Proceeds have also been used to fund scholarships for those seeking a career in the health care field as well as individuals in need of services provided at the Conway Regional Health and Fitness Center.

Last year, proceeds helped purchase digital mammography equipment, a first for the area. "It is a great diagnostic tool," Marla said.

HOLIDAY FUN

Pam said a lot of people look forward to Dazzle Daze every year. For some, it's an opportunity to get together with family and friends to enjoy food and fellowship and have their photo taken at Girls' Nite Out. For others, it is a time to get a jumpstart on holiday shopping and an opportunity to have their children's photo taken with Santa and Mrs. Claus.

"It's the kickoff to the holidays for a lot of folks," Marla said.

"I look forward to it every year," Pam said, adding that all the time and work put into the event is worth it because the money generated goes back into the hospital. "It's just fun! I just love being there and the excitement generated around the event. It's not your typical holiday shopping event."

"Christmas is my favorite time of year," Amy said. "I like to see what's new and I love the idea of being able to purchase gifts at Dazzle Daze while helping our hospital. I just love it!"