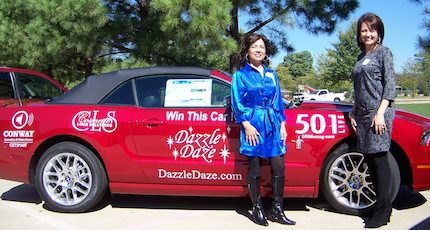 15 Oct 2012

Dazzle Daze 'Cruzin' Conway' on Friday

Posted at 8:45 PMh

in

News

Dazzle Daze organizers will be "Cruzin' Conway" on Friday at Smith Ford with the 2013 Ford Mustang to be given away.

The Mustang – from Smith Ford – is the grand prize during a raffle as part of Dazzle Daze. Tickets are $100 each and only 500 will be sold.


Other prizes include a $4,000 gift certificate donated by Cosmetic Laser Solutions, a $1,000 fly fishing package donated by The Toad Fly, a $750 Vizio 42-inch LCD 3D HDTV bundle and a $500 gift certificate from Cajun Brothers.


Raffle tickets may be purchased Friday at Smith Ford. Ticket purchase can also be arranged by calling the Conway Regional Foundation office at 501.513.5778.


Upcoming "Cruzin Conway" locations include – Friday, Oct. 26, at First Security Bank in Northern Conway; Friday, Nov. 2, at The Toad Fly.


The 11th annual Dazzle Daze — an event of the Conway Regional Women's Council — will be held Thursday, Nov. 15, through Saturday, Nov. 17, at the Conway Expo Center and Fairgrounds, 2505 E. Oak St./Hwy. 64E.

More than 90 merchants are expected at the event, offering shoppers a variety of merchandise – jewelry, gourmet food, décor, clothing, toys, artwork and numerous other holiday gift items.


501 LIFE is a presenting sponsor for Dazzle Daze.