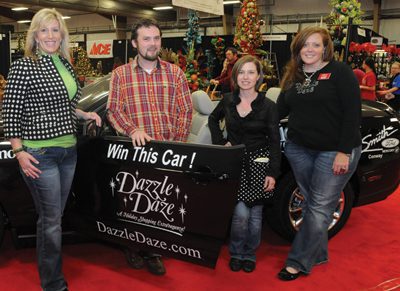 24 Dec 2010

Dazzle Daze a big success

Posted at 10:45 AMh

in

News

Organized by the Conway Regional Women's Council, Dazzle Daze is a fun and exciting event that features specialty shopping in one location over three days.

About 7,000 people came through the doors and 96 merchants from around the country offered gourmet food, holiday items, jewelry, children's merchandise, accessories, collectibles and much more.

In addition to record numbers, Dazzle Daze was held at a new venue – the Conway Expo Center and Fairgrounds.

A raffle was held in conjunction with Dazzle Daze. Winners were:

2011 Ford Mustang from Smith-Ford – Jonathan Dury.

2005 Yamaha Golf Cart donated by Angela Conrad – Jody Gatchall.

Laser treatment services from Cosmetic Laser Solutions – Linda Linn.

50-inch Plasma HD TV by DeBoard Electronics – Susan Shaw.

$500 gift certificate to Cajun Brothers Furniture – Terri Kubisty.

501 LIFE served as a presenting sponsor. At the 501 booth, Carolyn Garrett was the winner of a Tanner Cangelosi painting and Brandi Covington won a spa gift basket.

Over the past eight years, the women's council has raised more than $190,000 benefitting the community and countless patients at Conway Regional. This year, proceeds will be used to expand the Conway Regional Women's Center and surgery department. Proceeds will also fund a medical scholarship and the financial assistance program for Conway Regional Health and Fitness Center services.

The amount raised at Dazzle Daze will be announced at the women's council luncheon on Tuesday, Jan. 18. For more information about the luncheon, visit www.conwayregional.org.