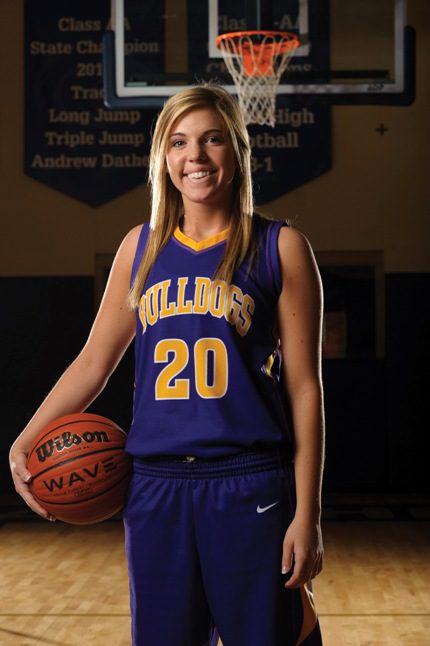 07 Jan 2015

Dail serves as 'great leader' for St. Joseph

by Levi Gilbert


Cross-town rivals Conway Christian and St. Joseph face off this week, and the importance of this game will have ripple effects that will reach into the postseason.

"All of our conference games are important," said Caroline Dail, a senior post for St. Joseph.


The game always feels familiar for players on both sides.


"We're not as big of rivals as everyone thinks," Dail said. "We're all friends and hang out together. We have lots of common interests being two private schools in Conway."


Dail was selected to this year's 501 Basketball Team — 24 players representing the best the 501 has to offer both on and off the court. Dail was nominated by St. Joseph's head coach, Chris Kordsmeier.


"Caroline is a great leader," Kordsmeier wrote in his nomination. "She works very hard, and her efforts reflect to the team. It is great for the younger players to see and imitate. She's a fine Christian young lady, has great manners, is very respectful and treats others with dignity."


Basketball runs in Dail's family. Her two older sisters played and encouraged her to pick up the sport. She started playing in the fifth grade.


"Everyone in my family played basketball, so I thought it would be good," Dail said. "I had fun and I kept with it, so I kept playing."


Dail is a St. Joseph Lady Bulldog, through and through. She's attended the school since kindergarten. Coming into 2015, St. Joseph is still developing as a team.


"We lost five seniors from last year's team," Dail said. "We're a pretty new team with lots of younger girls coming up. Six sophomores. We're working with them. It will be good."


Dail serves a pivotal role in helping the team come together.


"She has good communication," Kordsmeier said. "She's always there for her teammates — she cares for and loves them. She will do anything for them."


"She does a wonderful job of being one of our best defensive players and rebounders."


Dail understands her role on the team and embraces it.


"Shooting isn't my strong point," Dail said. "I like to box out, and defense is my thing, so it all works out because we have other girls on the team who are better on the offensive side."


Dail is a multi-sport athlete for the Lady Bulldogs. She finished sixth in the state in golf last fall and will play soccer this spring.


"I play any position from forward to defender in soccer," Dail said. "Last year we got to the semi-finals; we lost in a shootout. This year, we'll be good. Another young team."


Dail's contributions extend beyond the basketball court and soccer pitch. She serves the community through various clubs at St. Joseph and in Conway — she's the president of National Honor Society and a member of the Faulkner County Youth Leadership Institute and Delta Beta Sigma.


St. Joseph hosts Conway Christian in conference play Friday.