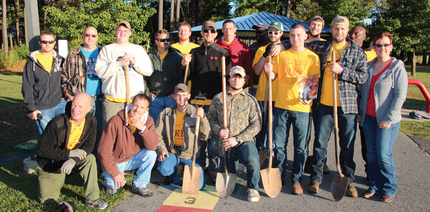 19 Feb

Daffodil Daze March 29; plans set for art contest

Organizers are making plans for the second annual Daffodil Daze — an event to celebrate spring — at 2 p.m. Sunday, March 29, on the Tucker Creek Trail at the Salem Road Pavilion in Conway. The free, family-oriented event will feature music, art and refreshments. A Daffodil Daze art contest is also planned for local schoolchildren.

Daffodil Daze is a new project to beautify the Conway walking/biking trail and other areas of the city with the seasonal yellow flowers. The Daffodil Daze Committee includes representatives of the Faulkner County Master Gardeners, the City of Conway and 501 LIFE.


Since the summer of 2013, the group has been meeting to plan and coordinate the planting of daffodils along the trail while encouraging others to plant daffodils throughout the city.


With donated bulbs from Master Gardeners Evelyn Krzeszinski, Norma Crass, Sandy Hixson and Betty Baxter, Acxiom associates planted 1,500 bulbs in November 2013 on the trail during the annual Volunteer Conway community service day. Lowe's followed suit, purchasing and planting 1,000 bulbs.


In January 2014, an estimated 3,000 bulbs were retrieved from the Jewell Moore home on Ash Street, with permission from Faulkner County Day School, which owns the property. Those bulbs have also been planted along the Tucker Creek trail.


Volunteers from Renewal Ranch and Acxiom turned out last fall during the Volunteer Conway event to plant about 3,300 daffodil bulbs along the trail. Bulbs were also planted at Laurel Park and the Faulkner County Courthouse by volunteers representing HP, Acxiom and Master Gardeners. The bulbs were donated by M.M. "Twig" Satterfield and were harvested last spring by volunteers from the University of Central Arkansas.


ART CONTEST


In addition to the event planned March 29, for the second year the Daffodil Daze Committee will host an art contest, sponsored this year by First Security Bank and Art on the Green. The deadline to enter is Friday, April 3.


The contest is open to all students through the 12th grade. Entries will be accepted in any medium, including photography, and must be submitted on 8.5-by-11-inch paper. Entries can feature any variety of daffodils and will be judged by artists at Art on the Green in three age categories — kindergarten-fourth, fifth-eighth and ninth through 12th. Winners will be featured in 501 LIFE and treated to a reception at Art on the Green.


In addition to the upcoming event and art contest, the Daffodil Daze Committee is now asking local property owners to consider thinning their daffodils, after the blooms and foliage have faded, and donate bulbs for the next planting. Financial contributions are also being accepted to purchase bulbs.


For more information, please call 501.327.1501 or visit the Daffodil Daze page on Facebook.