23 May 2015

Daffodil Daze art contest winners

Art on the Green, First Security Bank and Daffodil Daze recently teamed up to offer its second annual art contest.

The winners in grades kindergarten through fourth grade:


First – Maggie Casto, The Art School.
Second – Kori Williams, Greenbrier Eastside Elementary.
Third – Scarlet Pierce, The Art School.


Grades fifth through eighth:


First – Brynn Ward, Conway Junior High.
Second – Laura Katherine Tooley, Blackbird Academy.
Third – Brandy Everett, The Art School.


Grades ninth through 12th:


First – Lauren McHenry, Vilonia High School.
Second – Skylar Glover, The Art School.
Third – Haley Ashcraft, Vilonia Junior High.


The winners and their artwork were recognized during a reception at Art on the Green, where the winning artwork was displayed.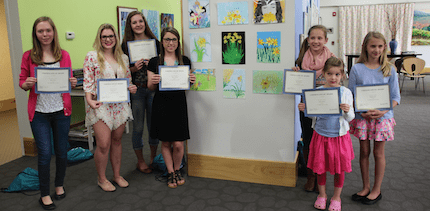 Businesses that provided prize items were First Security Bank, Art on the Green, 501 LIFE, Target, Chick-fil-A, Harding University and the University of Central Arkansas. Julie's Sweet Shoppe and PattiCakes provided refreshments.

Daffodil Daze is a new project to beautify the Tucker Creek trail and other areas in Conway with the seasonal yellow flowers. The committee is also encouraging others to plant daffodils throughout the city at businesses, schools, churches, etc.

The idea, which originated with Donna Evans, has grown into the creation of a Daffodil Daze Committee, which includes representatives of the Faulkner County Master Gardeners, the City of Conway and 501 LIFE.

For more information, call 501.327.1501.