30 Nov 2022

Currie records double-double

FORT SMITH, Ark. – Harding junior Taylor Currie scored 21 points and pulled down 12 rebounds, but a late Arkansas-Fort Smith run lifted the Lions to a 70-65 nonconference victory over the Bisons last Friday in the UAFS Thanksgiving Classic at Gayle Kaundart Arena.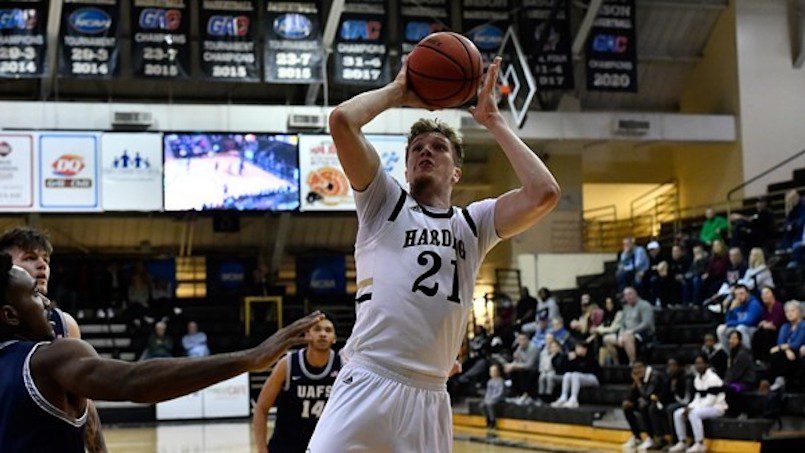 The loss was Harding's first of the season and dropped the Bisons to 4-1. Harding plays again Saturday at 4 p.m. against Oklahoma Christian. OCU defeated Ouachita Baptist 69-58 in the first game of the Classic.
Harding led 33-28 at halftime and held a nine-point lead early in the second half. With 5:08 left, Currie hit a hook shot in the lane to give the Bisons a 63-59 advantage. The Bisons did not have another field goal the rest of the way, missing its next seven shots during an 11-2 UAFS run. Harding's only points during that stretch came on two J.T. Smith free throws with 10 seconds remaining.
Harding hit 10 3-pointers in the game for the second time this season, with Ramiro Santiago connecting on 4 of 10 and Keyln McBride hitting 3 of 5. But the Bisons only went to the free-throw line five times, making all five.
UAFS, a member of the NCAA Division II Lone Star Conference, made only three 3-pointers but made 19 of 29 (65%) at the free-throw line. Harding committed 23 fouls to 13 by UAFS (3-2) accounting for the difference in trips to the line.
Currie shot 10 of 15 from the field and made his only free throw. He has scored more than 20 points in four of Harding's five games and has two double-doubles, giving him nine for his career.
Santiago's four 3-pointers accounted for all of his 12 points and a team-high four assists. McBride chipped in 11 points. Smith had nine points, six rebounds and three assists.