22 Oct

Crow opens headquarters in Downtown Morrilton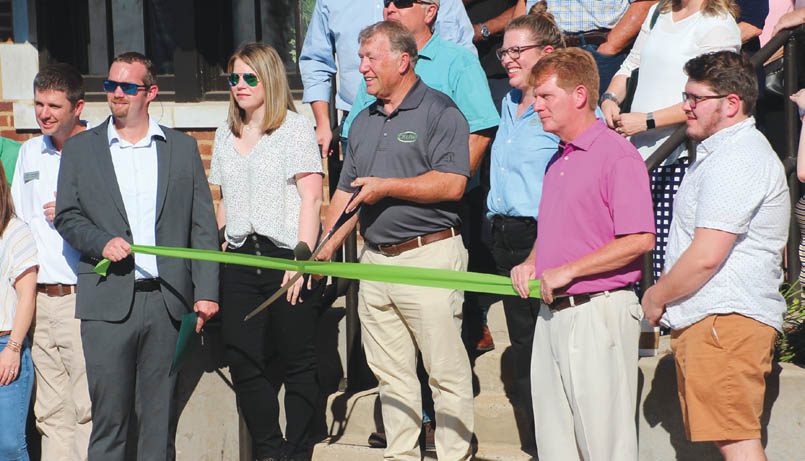 Sonja J. Keith photo
An estimated 200 people recently attended the grand opening of the Crow Group's newly renovated corporate headquarters in Downtown Morrilton. 
The company celebrated with employees, the community, clients and vendors with a ribbon-cutting and business after hours event co-hosted by the Morrilton Area Chamber of Commerce.  
Festivities included comments from Crow Group President Brian Rohlman, Crow Group Owner Mike Miller and Conway County Economic Development Corporation President Jerry Smith who closed the comments with a resounding, "It's a great day for Conway County" cheer. Morrilton Mayor Allen Lipsmeyer also commended the Crow Group for its investment in Morrilton and commitment to providing employment opportunities in the area by proclaiming it "Crow Group Day."
The ribbon-cutting was followed by guided tours of the historic Coca Cola bottling plant, which many people in the community had not seen since the renovation kickoff event in November 2018. The building, originally constructed in 1929 by the Coca Cola bottling company, was also the site of the original Morrilton Walmart Number 8 Store in the 1960s and most recently served as Morrilton City Hall and the Morrilton Police Department.  
Crow purchased the property in 2018 and worked with the National Park Service Historic Preservation Department to preserve the historic architecture while modernizing the facility for use as the home office for Crow's construction and engineering services.  
"We are overwhelmed with the outpouring of support from this community," said Crow President Brian Rohlman said. "Big things are happening in this community and we need to capitalize on that and continue to sell ourselves to the outside world and remind them how great we are. We look forward to the Crow Group continuing to have a presence in that movement."  
Rohlman added, "This is just the beginning of what's to come for Crow. We've been fortunate to have the blessings of our owners, Mike and Suzan Miller, throughout this project and in everything we do that has allowed us to be aggressive and achieve this rapid growth. We love living here and we like working here and we hope the citizens of Morrilton will be as proud of this project as we are." 
Crow Group is a diversified construction and engineering service provider headquartered in Central Arkansas. It offers services across multiple divisions including commercial, industrial, heavy civil and water-wastewater for clients across the United States.
For more information, contact Morgan Zimmerman at 479.264.4332 or visit crowconst.com.