07 Sep 2022

Cross Country soars at Carl Albert invitational

Poteau, Okla. — The National Park College (NPC) Nighthawks men's and women's cross country teams excelled in the Carl Albert State College Invitational on Friday, with the Nighthawk women finishing in first place overall and the Nighthawk men placing two runners in the top 10.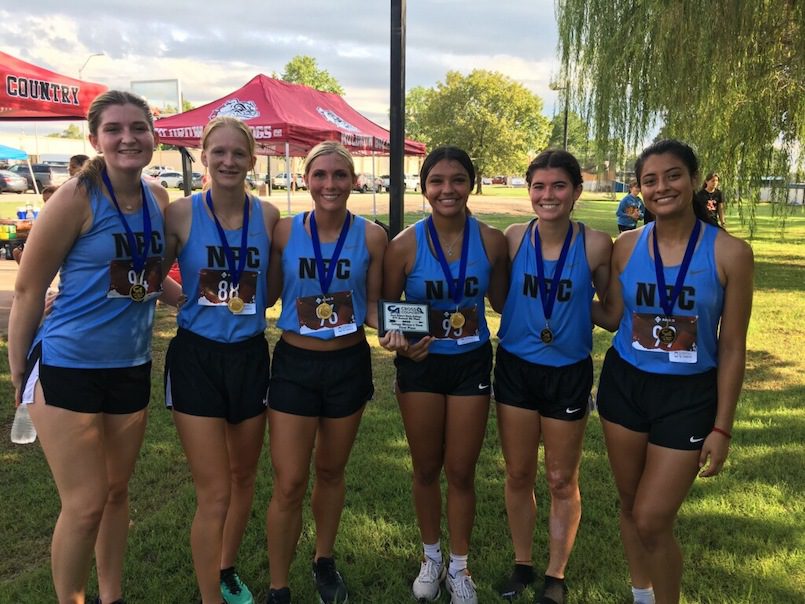 In women's action, freshman Kaylie Goad (Wharton, TX) led the Nighthawks with a third-place individual finish. Sophomores Jaelynn Martinez (San Antonio, TX), Natalie Jennings (Hot Springs) and Elizabeth Dearyan (Hot Springs) finished in fourth, sixth and seventh place, respectively, while sophomores Meighan Mears (Hot Springs) and Yessenia Vargas (Fresno, TX) finished in eighth and 10th place, respectively, to give NPC the overall first-place team victory.
"I'm extremely proud of our ladies," NPC Athletic Director and head cross country coach Jason Hudnell said. "We have been really talking about building blocks and getting ready for our regional in October. This was a big step for us!"
Freshman Miguel Mendez (Benton) led the Nighthawks in men's action with a fourth-place individual finish. Freshmen Nahum Romero (Benton) and Alex Garcia (Cleburne, TX) finished in ninth and 11th place, respectively, in the event.
"Miguel ran really well," Hudnell said. "He is still adjusting to the longer distance that the men run in college versus high school. Once he gets a few more meets under his belt, he is going to be one to watch in our region."
NPC cross-country travels to Searcy to compete in the Harding University Invitational at 4 p.m. on Friday, Sept. 16.For more information on schedules, rosters and more, visit Nighthawk cross country online. Fans can also follow the Nighthawks all season on social media.