10 Nov 2020

Credit leading in the trenches for Mayflower

by Levi Gilbert

With the expanded playoff format, Xavier Credit and the Mayflower Eagles (2-7, 2-4), who earned the No. 5 seed out of the 4-3A, will benefit from an extra week off before playing their first playoff game.

The high school football season was disrupted for many teams across the state, and with those disruptions came new rules for the playoffs, including all teams being eligible for the playoffs. With 11 teams opting out of the playoffs in the 3A, an opening round week of play-in games will be held this Friday before the first round begins the following week on Nov. 20.

The Eagles will travel to Charleston next week to take on the Tigers.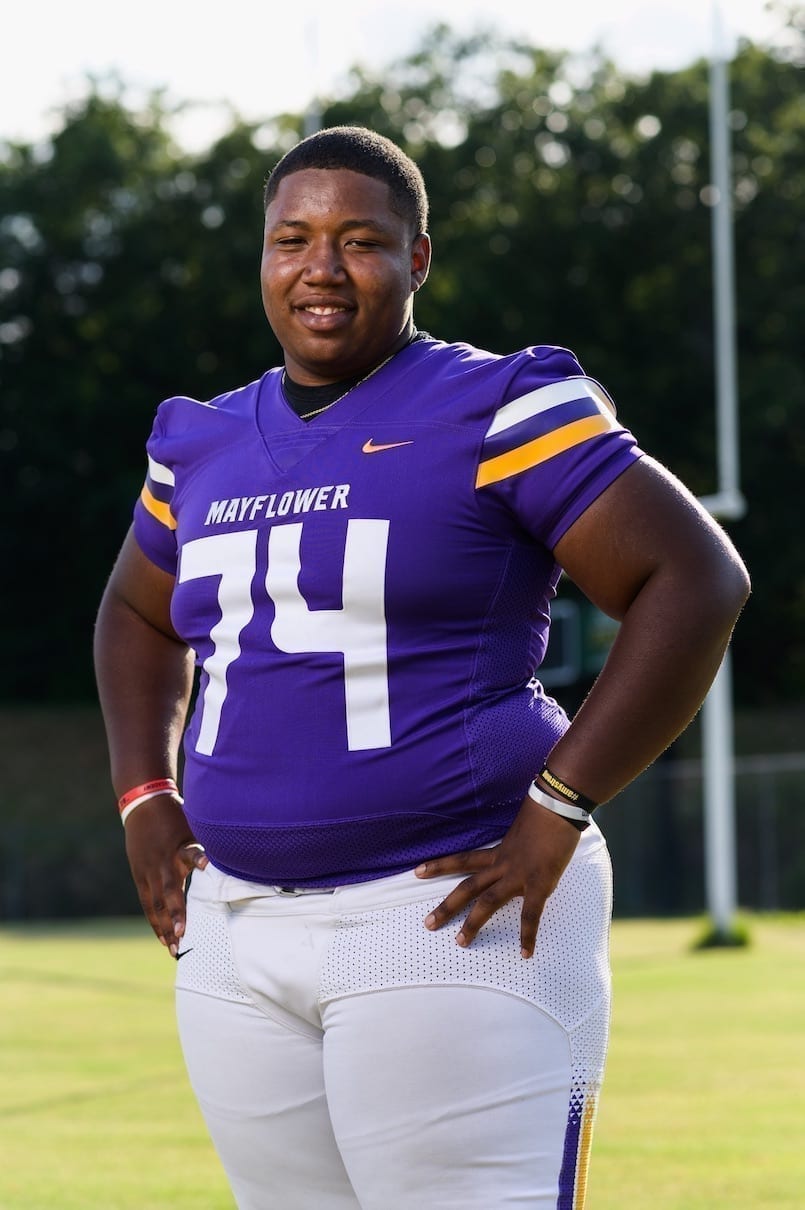 "It means a lot to me and my teammates, and we're glad to be here," Credit said. "We're definitely going to show up and give it our all."
Credit was selected to this year's 501 Football Team — 24 players representing all 11 counties of the 501. The team, sponsored by Conway Regional Health System and First Security Bank, boasts the best the 501 has to offer both on and off the field. The senior was nominated by his head coach, Austin Emerson.
"Xavier is a two-way starter for us this year, as he was last year," Emerson wrote in his nomination. "He never came off of the field last year, and he was one of our leaders up front in the trenches."
Credit revels in the simple joys of football like just hanging out with his teammates on long bus rides. "Football is a big thing to my family," he said.
He approaches games and practice with a persistent and resilient attitude that is often required to find success in the grind of the offensive and defensive lines.
"It's not always easy, but you just push through it," Credit said. "It will be worth it in the end. I just want to be the best I can be as a leader and a great teammate."
"Xavier is tough on the field and always goes 100 percent," Emerson said. "But he's also always smiling and having a good time. He works hard in the classroom and in the weight room. He gets along with everyone in the school. I have not seen him have many bad days. Xavier is a very humble kid and is great to be around."
When he's not working on the football field for the Mayflower Eagles, he can usually be found out hunting or fishing. Credit plans to pursue a career in welding after high school.
Mayflower heads to Charleston for a first-round 3A playoffs matchup with kickoff set for 7 p.m. Friday, Nov. 20."It's like any other game," Credit said. "We're going to show up and work hard all week for them Friday night lights."

Latest posts by Levi GIlbert
(see all)