01 May

Creating the perfect table for Mother's Day

By Stefanie Brazile

Looking for tips to set a spectacular table for your Mother's Day or graduation gathering? It all begins with how many people you are seating, according to Mary Pollock, store manager of Haynes Ace Hardware in Conway since 2006.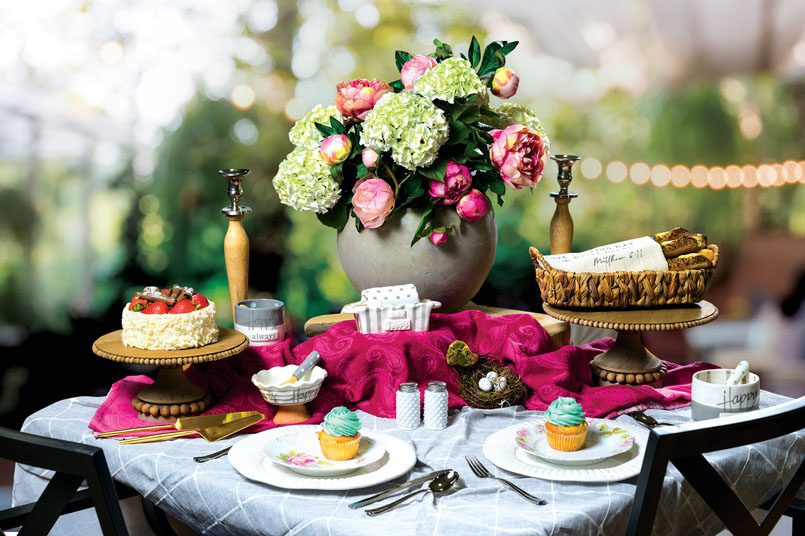 "Once you have a number in mind, you can choose your table size and determine if it should be casual or formal. Then, decide if your dinner service will be on a buffet or on the table where you are passing things around family-style," Pollock said.
From there, it's all about the colors in the room or on the patio. "I do what I feel is pretty and what is nice together. I'm not a professional decorator. I just know what I like and love seeing people's faces when they see what you've done."
You can save money by purchasing neutral tablecloths, runners, and placemats and using them for several occasions. Pollock said you can add various colored and patterned salad and dessert plates to a white base plate as long as you keep color schemes in mind so they coordinate. She likes to mix antique china on a table.
Centerpieces can easily be changed to create a unique look. Pollock suggests blending real flowers from your garden, grocer, or florist with tasteful silks. Tropical and outdoor plants can be considered and succulents remain popular.
Her store offers a lot of pastel colors and lemon yellows this season, and the Waverly pattern (think tea party florals) is very popular. She continues to offer ceramics and wood pieces with fun and heartwarming phrases and the nature-themed items have been tried and true year after year, she said.
This season, plan a special gathering and look around your home for timeless pieces. Then, consider borrowing dishes from a friend or purchasing some new items to freshen up your décor.