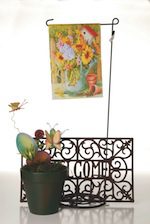 21 Jun

Create curb appeal

by Kayla Cooper

Summer is here, and it's time to spend our weekends outside with our hands in the dirt. Here are some helpful tips to making your home's curb appeal the best on the block!


Spruce it up!


First, take inventory of the aspects of the front of your house that need to be updated. A simple paint job to the siding, trim and shutters makes a huge impact. Some items might need updating, such as gutters, house numbers and porch railings.

Right on your doorstep!

A home's front entry should be the focal point. Make sure the doorway is visible and inviting for guests.
Tips to making the doorway the center of attention include adding molding around the doorframe, investing in a custom wood door, painting the door a vivid color or simply placing outdoor accessories to frame the doorway.

Have fun with extras
Show your personality through the extra accessories you place around your home. Front porches should always include some sort of seating arrangement. This can be in the form of a bistro table set, Adirondack chairs or a bench.
Colored planters and flowerpots sprinkled throughout the landscaping will add interest. If you are particularly adventurous, add outdoor art to your landscape. It can be metal cutouts, a fountain or a sculpture.
Masonry
Cracks in your driveway and walkways will quickly add visual years to the curb appeal of your home. Repairing the cracks in the driveway and trimming the edges with decorative masonry or bricks will add character. Don't forget about your walkways or doorsteps. Try applying stone veneer to porch pillars or the base of the house walls.
I see the light!
Outdoor lighting is usually left behind in curb appeal renovations, but it is one of the most important principles. Outdoor lighting adds functionality and is visually stimulating.

When visiting at night, your guests need to see where they are walking; therefore, lining a walkway with decorative lights or placing a few larger lights elsewhere is a must.

Really show off your façade with under-eave lighting and strategically placed spotlights. Spotlights are used to highlight the different dimensions and corners of a home to give visual depth.
The green thumb
Always keep well maintained lawn and gardens. Cut back over bearing trees or shrubs that keep you from seeing the front of the house. Give your flower beds a facelift by pulling out all weeds and adding a new layer of mulch. Add color to your landscape with seasonal flowers in window boxes, flowerpots or beds.