Oct 20, 2019

Couples: Maret Cahill and Jeff Wicks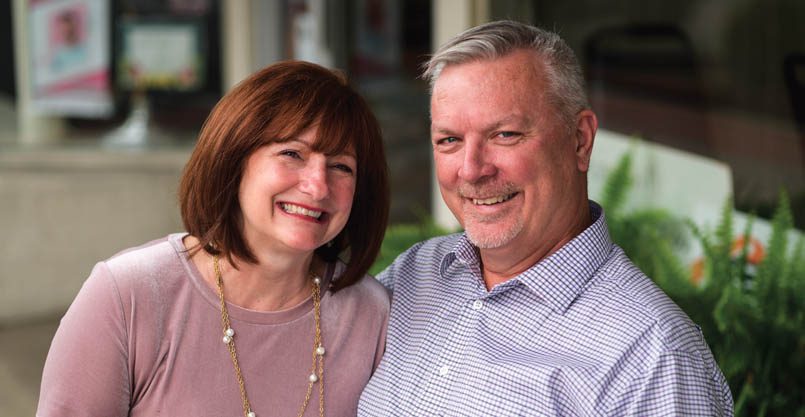 HER
  Maret Cahill Wicks
Native of: Tempe, Ariz.
Education: Studied art and interior design in college.
Job: Executive director of United Way of Central Arkansas for seven years, with nine months as resource director.
Why did you choose your vocation: My family is very community driven and gives back through service. Dad was a city councilman in Tempe for years and then went on to be the director of apprenticeships for the State of Arizona. My big brother is the president of the Bricklayers Union in Arizona and New Mexico. My sister was the director of a senior center and then worked in programming for parks and rec in Tempe. My baby brother is a Navy Seal. There was always a strong push that we should give back to the community we live in.  
Favorite Thanksgiving tradition: I work for United Way and we put on the annual Turkey Trot on Thanksgiving morning so that by default is my family's holiday tradition. My children help with it every year and now that they are beginning to bring home significant others that help as well.  But, my favorite tradition grew from Turkey Trot. As you can imagine by the time we get home around 11:30 a.m. I don't feel much like cooking and cooking the days leading up is also very hard. We made a new tradition where each kid brings a side dish to share and we vote on the side dishes. The winner gets bragging rights for a year. It makes for a very fun day!
Hobbies/special interests: I love to paint, bike ride and read. I am an exercise enthusiast.
How would you describe yourself: An outgoing introvert. I am a loving wife and mother. I truly enjoy hanging out with my adult kids and my hubby. 
What is one thing people don't know about you: I love mysteries. 
Most enjoyed weekend activity: Hanging out in the backyard by the pool and playing games with the kids; and painting with my daughter.
What is your motto: Simply….be kind!
What do you enjoy most about living in the 501:  We are so blessed to live in an area where we can be outdoors most of the year. People are just so nice in this area and I can say that from experience. I have lived in four states and this is a great state!
HIM
Jeff Wicks
Where did you grow up: Tioga, Pa.
Education: Bachelor's degree in business administration from Mansfield University, in Pennsylvania.
Job: Financial advisor with Edward Jones Investments.
Why did you choose your vocation: I wanted to use my years of sales experience to help others.
Favorite Thanksgiving tradition: Working the United Way Turkey Trot with my wife and family.
Hobbies/special interests: Working on projects with my wife, watching my youngest play baseball, hanging out with our blended family
How would you describe yourself: Caring, helpful and always willing to help a friend.
What is one thing people don't know about you: I was a drummer in a rock cover band and I used to be the instructor for a drum corps.
Most enjoyed weekend activity: Relaxing in our pool in the summer and bike riding in the fall.
What is your motto: Early is on time, on time is late
What do you enjoy most about living in the 501: The weather. I moved from upstate New York and grew up in Pennsylvania where we had six months of winter. I love that it is warm here and so are the people.
THEM
City: Conway.
How we met: We were set up on a blind date by a mutual friend and we just hit it off immediately. 
The proposal: We had a short courtship in traditional terms but we knew we wanted to be together. Our kids all liked each other, and everyone just got along. We only had two kids at home, and they hit it off too. We chose our wedding date to honor Maret's grandparents because they were married after only knowing one another for two weeks. They may have only known each other two weeks but they were married more than 60 years so we felt that would be good luck. 
Wedding bells: Nov. 17, 2014, at Traci and Josh Smith's backyard in Conway. It was quick, because it was the coldest day of the year, but it was perfect. We then took the whole family to Arizona to meet Maret's family.  
Children: Maret's – Andy, Ethan and Grace. Jeff's – Kyle and Jordan.
Pets: Two dogs, Stella and Cali, and the alpha cat, Kitty.
Family activities enjoyed together: Backyard barbecues and hanging out in the pool.