20 Aug 2020

Couples: Brooke and Grant Pryor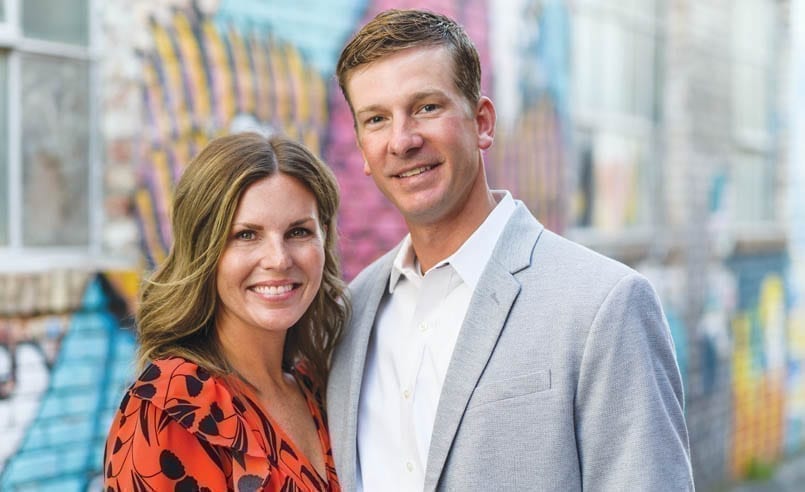 HER Brooke Pryor
Native of: Jonesboro.
Education: Bachelor of science degree from Arkansas State University in Jonesboro. I majored in journalism with an emphasis in public relations and a minor in sociology.
Job: Director of marketing for Unity Health in Searcy for 10 years.
Parents: Larry and Charlotte George of Newport.
Community activities: Rotary, Arkansas Society for Healthcare Marketing & PR (ASHMPR), Junior Auxiliary Life Member, PEO and Society for Healthcare Strategy and Market Development (SHSMD)
Church activities: We attend New Life Church-Searcy; member of the Blends team, serving coffee and refreshments to church members on Sunday mornings.
Hobbies/special interests: Anything with family. We are neighbors to my husband's mother and stepfather, which is a nice perk for our daughters to have grandparents so near. I have a large extended family in Newport, and we often gather for any reason we can find. We love getting together with Grant's side of the family any chance we get.
How would you describe yourself? I am a mix between introvert and extrovert. I love quiet time and being with just my close-knit friends and my family. At the same time, I love going, doing and seeing. I love to be "out and about" learning new things and building relationships. I need both levels of activity in my life to find balance.
Most enjoyed weekend activity: When it's soccer season, we love being out at the soccer fields in Searcy, watching our youngest play. Besides that, we spend a lot of time with our close-knit group of friends who all have children of similar ages. We love the chaos of being together and the closeness it brings.
What is your motto? Trust God's plan. It's so much better than mine.
What do you enjoy most about living in the 501: I love Arkansas. I love living in the 501, where there are endless outdoor and indoor activates for all ages. I love the slow pace of life you can find in this area if you choose to. I love the scenic outdoors and the southern charm. I feel incredibly blessed to live where I do. Specifically, Searcy's culture is conservative yet fun. There are strong values represented in Searcy and I love raising a family here.
HIM Grant Pryor
Where did you grow up: Camden, Sherwood and Searcy.
Education: Searcy High School; ASU-Jonesboro with a major in business administration/corporate finance; and a master of business degree from Harding University.
Job: Insurance agent at Grant Pryor State Farm in Cabot.
Parents: James Pryor of Camden (married to Maggie) and Kathy Hunnicutt of Searcy (married to Mike).
Hobbies/special interests: I duck hunt a lot in the winter and enjoy golfing in the spring/summer/fall.
How would you describe yourself? I am very driven and goal oriented.
What do you enjoy most about living in the 501: The Natural State is one of the country's best-kept secrets. We can be on the lake, floating a river, hiking a mountain or enjoying some of the best hunting in the nation right here in our backyard. We have great opportunities and excellent schools.
THEM
Residents of: Searcy.
How we met: We met as freshmen at ASU-Jonesboro through mutual friends.
The proposal: Brooke was working for a travel company out of St. Louis after graduating from ASU. She flew home one weekend after a work trip, and Grant picked her up at the airport, later to propose while in Little Rock for the evening. It was a surprise to Brooke.
Wedding bells: June 17, 2006, at First Baptist Church in Newport. It is also where Brooke's parents were married. We had a reception at the Train Depot, right down the street. We have so many beautiful memories from that day.
Children: Stella (10) and Charlotte (7) – Grant is outnumbered.
Pets: Cooper, a male Boykin Spaniel.
Family activities enjoyed together: As a couple, we enjoy sharing a "show" we can watch together, working on projects, traveling, riding the golf cart on a nice evening, cooking outdoors, and having movie nights with our girls.