May 20, 2018

Couples: Amanda and Adam Bledsoe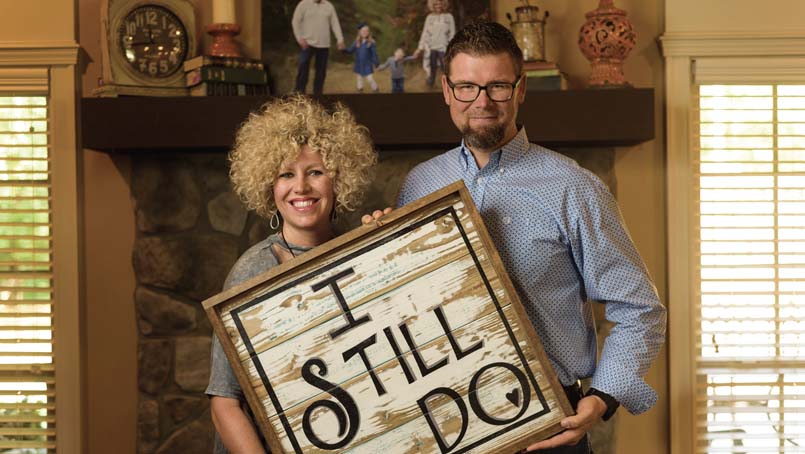 HER
 

Amanda Bledsoe

Resident of: Damascus (We call it North Wooster or Middle of Nowhere to our kids!).

Native of: Atkins (Pope County). 

Education: Atkins High School, 1998 graduate; University of Central Arkansas, bachelor of science in biology, 2002; Cleveland Chiropractic College, doctorate of chiropractic, 2005.

Job: Chiropractor, Bledsoe Chiropractic.

Why did you choose your vocation: I have wanted to be a doctor since I was in the second grade. I went to a camp in the summer and built a hospital out of Styrofoam! I then started seeing a chiropractor at age 18, and the more I learned about how it helped me, I wanted to explore that. By age 22, I had decided to become a chiropractor. It was the best decision I could have made without even knowing all the wonderful ways it would bless me and others lives!

Parents: Robert and Rayla Hearne, lifelong residents of Atkins.

Community activities: Bethlehem House supporter; donate auction items to everything and support many charities through 5K sponsorships; participated in Project Homeless Connect, which was a huge blessing to be able to give some healing relief through adjustments there and since then in our clinic; senior center monthly bingo sponsor (I love seniors). 

Church activities: Member of Robinson and Center Church of Christ, Bethlehem House food committee.

How would you describe yourself: Energetic (I've been called the Energizer Bunny before), encouraging, deeply passionate about what I've been called to do and a little different, uniquely me — I like to keep life interesting! 

What is one thing people don't know about you: This is my real hair! I hated my hair growing up, but now I have embraced it to the point it's my trademark and logo. I love it!

Most enjoyed weekend activity: Hanging out with my family at home or in Branson. I crave stay-home days just like my youngest, Hunter. Naps on Sunday afternoon, too, are the best.
HIM
 

Adam Bledsoe

Resident of: Damascus, Wooster, Greenbrier, Bono, Mallet Mountain (A geographical oddity).

Native of: LaGrange, Ohio.

Education: Harding University, bachelor of arts, 2017.

Job: Business development officer, First Service Bank; previously the Public Information Officer, Faulkner County Sheriff's Office.

Why did you choose your vocation: The vocation chose me. I strive to provide a quality banking service and camaraderie to those in Central Arkansas. My natural instinct is to love on folks. My vocation will allow me to do that!

Parents: David (late mother, Charlotte) and Charlene Bledsoe, LaGrange.

Community activities: Contribute to various volunteer organizations, such as Bethlehem House; Conway Kiwanis Club; provide security assessments for churches and business.

Church activities: Proud and thankful member at Robinson and Center Church of Christ.

How would you describe yourself: Light-hearted and loving.

What is one thing people don't know about you: I'm addicted to watching self-help videos on YouTube.

Most enjoyed weekend activity: Teaching concealed carry classes, going to Branson with my family and fishing.

What is your motto: Do unto others BETTER than you would do unto yourself.

What do you enjoy most about living in the 501: The 501 provides so many opportunities, both personally and professionally. We live in the greatest area code in the country!
THEM
How we met: We met on a mutual faith-based website, and began visiting as friends.
The proposal: Adam decided to pop the question via a scrapbook while at The Old Mill in North Little Rock for a "photo shoot."  
Wedding bells: May 8, 2004, on the front lawn at Harding University.
Children: Audrey, 9, and Hunter, 5.
Pets: Bo (the rescued lab), five chickens and a rooster.
Family activities enjoyed together: We enjoy rides in the Jeep or the Polaris Ranger with the top down. Taking off to Silver Dollar City also seems to be one of our favorite family activities.
More information: We are so appreciative to those who love and cherish us. The amount of support from those who watched Adam on THV11 and love shown to Amanda while opening her clinic has been amazing. We truly are blessed beyond measure. Glory to God.