31 Jan

Couple of the Month: Emily Copley and Sam Nagher III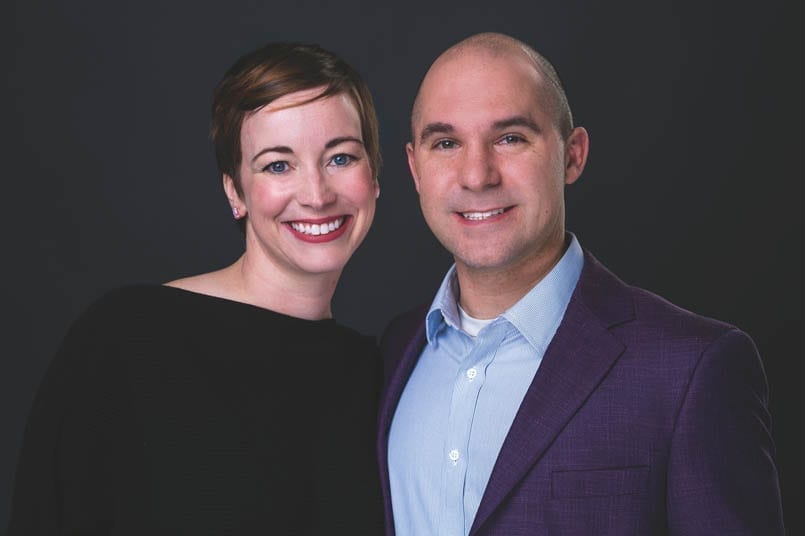 HER STORY: EMILY COPLEY
Resident of: Conway.
Native of: Fort Smith.
Education: Bachelor of Science in Speech from UCA – Go Bears!
Job: Senior project management engineer for ArcBest Technologies in Fort Smith.
Parents: Conway residents (and recent retirees) Greg and Connie Copley .
Community Activities: Recently became active through The Call to see how we can help with the foster care system in our area.
Church activities: Member of First United Methodist Church.
Hobbies/special interests: Hiking, cooking, reading, singing/acting and traveling.
How would you describe yourself: Major extrovert, easy to laugh at myself, fan of gallows humor and a realist.
What is one thing people don't know about you? My grandfather, Milton Davis, named Toad Suck Square in Conway.
Most enjoyed weekend activity: Hosting get-togethers next to our pool or (pre-COVID-19) traveling to see friends or places I've never seen before.
What is your motto? Always keep improving and challenging your beliefs.
What do you enjoy most about living in the 501? Family! I have lived out of state for close to 10 years – in Upstate New York, Dallas, L.A. and Reno – and am so glad to be able to call on everyone in my immediate family and take them leftovers. Or, more likely, as I am the youngest of three, eating theirs. We also bought a home across the street from my aunt and uncle, which has been especially important over this past year. I truly feel saddened for people who are isolated right now. Today's circumstances make me feel even more grateful for my close-knit (and close by) family.
HIS STORY: SAM NAGHER III
Native of: Redford, Mich.
Education: Bachelors of Science in Mechanical Engineering from the University of Michigan.
Job: Financial adviser for Edward Jones in Conway.
Parents: Sam Nagher Jr. of Canton, Mich., and the late Karen Nagher.
Community activities: Board member and membership chair for Conway Morning Rotary.
Church activities: I attend First United Methodist Church.
How would you describe yourself? I would say I am generally handy and love to help people. I love to laugh and have a good time. I overthink things sometimes, but that isn't always a bad thing in my experience.
Hobbies/special interests: Golf, woodworking, grilling and pool boy.
What is one thing people don't know about you? My wife says I'm a great sous chef.
Most enjoyed weekend activity: Golf and/or some sort of woodworking project.
What is your motto? Everything works out in the long run.
What do you enjoy most about living in the 501? I love the small-town feel of the 501. Running into people around town, pre-COVID-19, was very enjoyable for me. I look forward to spending time Downtown and gathering at some of our local hangouts again.
THEIR STORY
When/how we met: We met during a week-long wedding cruise. We were both there as friends of the bride and groom. Emily had been roommates with the bride in college. Sam was an undergrad friend of the groom.
The proposal: Emily and her college friend Whitney had been planning a bucket-list trip to climb Mount Kilimanjaro in Africa. I (Sam) was asked to join the trip and decided if I was going to do this, it was the perfect place to plan the proposal. This was my first-ever major hiking trip. I think it's fair to say that shows the lengths I was willing to go to for the perfect proposal location. Emily's sister, Amanda Mulhearn, suggested I get the coordinates engraved on the ring, which I thought was perfect and got it done before the trip. It took us five days to get to the top. Fortunately, the three of us made it, and I was able to propose at the peak of Mount Kilimanjaro. Also, Emily said, "Yes!"
Wedding bells: The Crescent Hotel in Eureka Springs on June 1, 2018.
Children: No kids currently. Three beautiful nephews and a mess of a niece.
Pets: Annie Pie, our dog, is a native of Ozark (Franklin County).
Family activities enjoyed together: We love any excuse to host a cookout next to our pool. Sam and I love playing cards and board games, as well as finding a dorky sci-fi series to delve into at night.