08 Aug 2023

Couple of the Month: Dayna and Mark Lewis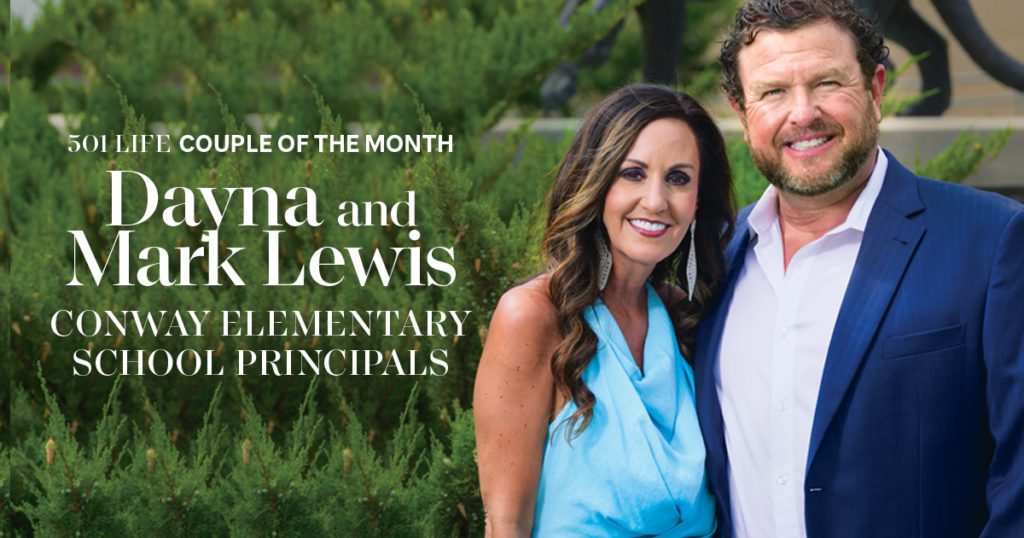 HER STORY:
Education: I have three degrees from the University of Arkansas in Fayetteville, with the last one being my Doctorate in Educational Leadership.
Job: I was a classroom teacher for 17 years before transitioning to administration. I taught kindergarten and first, second and third grades in Alma, Shreveport and Laredo. I accepted an assistant principal job when I moved to Conway, and after two years I was blessed to be named principal of Woodrow Cummins Elementary. Dr. Woody Cummins visits his namesake school often and is a wonderful mentor to me.
Family: I am the daughter of Gary and Kay Baxter. My parents have been married for 58 years! My dad is the mayor of Mulberry. My brother, Gary, and his wife, Stephani, live in Kansas City, where they are raising their daughter, Magdalen, who just graduated from kindergarten.  Mark and I have three children: KatyBeth, a senior in the UAMS nursing program, and Adam and KaraLyse, both seniors at Conway High School.
Community/church activities: I am a member of First United Methodist Church. I love volunteering with Delta Beta Sigma, a national junior sorority for high school girls that our daughters have both been officers in. I previously served on the board for Junior Achievement of Arkansas.
Hobbies/Special Interests: I love combining two of my passions: reading while sitting on any beach! Spending time with family and friends makes my heart happy.
Since both of you are elementary school principals in the same district, do you talk about work at home or share ideas that are working: Mark and I love sharing what is working in our buildings with each other. We bounce ideas off of one another, and the ideas end up better because of the collaboration.
What do your kids think about having parents who are school principals: Our children love having principal parents … most of the time! They spent lots of extra hours at our schools before they were able to drive themselves. As principals, we arrive at our schools around 7:20 each morning, stay until at least 4:30 most days, and have quite a few school activities in the evening. They can answer the school phone and door as well as any paid employee. Having principal parents does put quite a bit of pressure on our children for perfection, which can be stressful, but overall the good outweighs the bad.
What do you love about living in the 501: I am a military brat. My dad retired from the Air Force after a 27-year career. The longest we lived in one city was three years, but Arkansas was always "home" because all of our extended family lived in the Van Buren/Mulberry areas. I came to Conway in 2010 and immediately fell in love with it. Living only an hour and a half away from my parents is such a blessing. I love that our children have a childhood home that is only five houses away from their grandpa, Gary Lewis. Conway Public School District (CPSD) is very special to me. Our three children are thriving because of the quality education they received or are receiving. In addition to Mark and I being principals in the district, Mark's mom, Carolyn, retired from CPSD, served on the School Board for 10 years and has an elementary school named after her!
HIS STORY:
Education: I have a B.S.E in early childhood education and an M.S.E in Educational Leadership, both from the University of Central Arkansas. I have an Ed.S. in Educational Leadership from the University of Arkansas.
Job: I'm starting my 20th year as principal at Jim Stone Elementary. Before that, I was the assistant principal split between Jim Stone and Theodore Jones elementary schools for five years. I began my career as a third-grade teacher for three years at Ida Burns Elementary when Principal Robert Anthony gave me a shot at teaching.
Family: I'm the son of Gary and Carolyn Lewis. I grew up working on Lewis Brothers Ranch (family ranch). My mom is the namesake of Carolyn Lewis Elementary here in Conway. Our kids are so smart and it's a blessing. Adam is a leukemia survivor. He did chemo every day for 38 months from age 3-6. With KatyBeth getting close to graduating and Adam and KaraLyse being seniors, it's about to look different at the Lewis residence.
Community/church activities: I'm a member of First United Methodist Church. I have most recently served as a member of the board of the Arkansas Association of Educational Administrators and president of the Arkansas Association of Elementary School Administrators.
Hobbies/Special Interests: I enjoy playing golf, weight training, riding my Peloton bike and smoking meat on the recteq.
Since both of you are elementary school principals in the same district, do you talk about work at home or share ideas that are working: We have a 30-minute max of unpacking the school day, good, bad or both. Then we focus on family after that.
What do your kids think about having parents who are school principals: They really do enjoy it for the most part. It's hard to have to make them come second when we have events at night, but they understand. When Adam was younger and SWAT was training in our buildings, the commander let me take him and some friends to watch and even tour the SWAT bus. So there are a few perks in there. I think it has truly taught them how hard educators work behind the scenes, which led to a high respect for the staff at all of their schools.
What do you love about living in the 501: I'm a Wampus Cat lifer. I started kindergarten when Julia Lee Moore opened their doors in 1978. I'm a proud Wampus Cat graduate of 1991. Our kids know how important education is because of this city. I can't imagine a better place to raise a family. Our schools, first responders, restaurants and businesses are the absolute best. Let's not forget Toad Suck Daze!
Their STORY:
We started dating in 2014 while working on our educational specialist degrees at the University of Arkansas. Mark knew I was the one when we attended some Chicago Cubs games in Wrigleyville that summer. He asked if I wanted to catch a day game or a night game. I replied, "Let's go to both!" He asked where I wanted to eat and I replied, "I thought we would eat brats at the ballpark!" Julie's Sweet Shoppe helped Mark propose to me in September of that same year. He ordered five cupcakes and they read, "Will you marry me?" and the engagement ring was in the sixth cupcake's spot! Mark's mom had been diagnosed with cancer and treatment had her feeling pretty rough. We got married over Thanksgiving break, just two months after the engagement, for her.
We love supporting our children in whatever activity they are involved in. When we got married, our children were 12, 9 and 8 years old. We have transitioned from cheering them on at soccer games, dance and gymnastics to cheering for them as one has aspirations to be a nurse, one a pilot, and the youngest maybe an educator! Family nights consist of watching our favorite TV shows or movies, playing games or listening to our favorite artists. Seeing our children be successful is our greatest joy.