02 Apr 2023

County Player of Year Nominees celebrated at Awards Ceremony

By Jeremy Higginbotham

The Faulkner County Player of the Year Award ceremony took place on Feb. 10 at Herschel Hall in Greenbrier. This is the fourth season the award, sponsored by American Safeguard Insurance and First Security Bank, has been presented.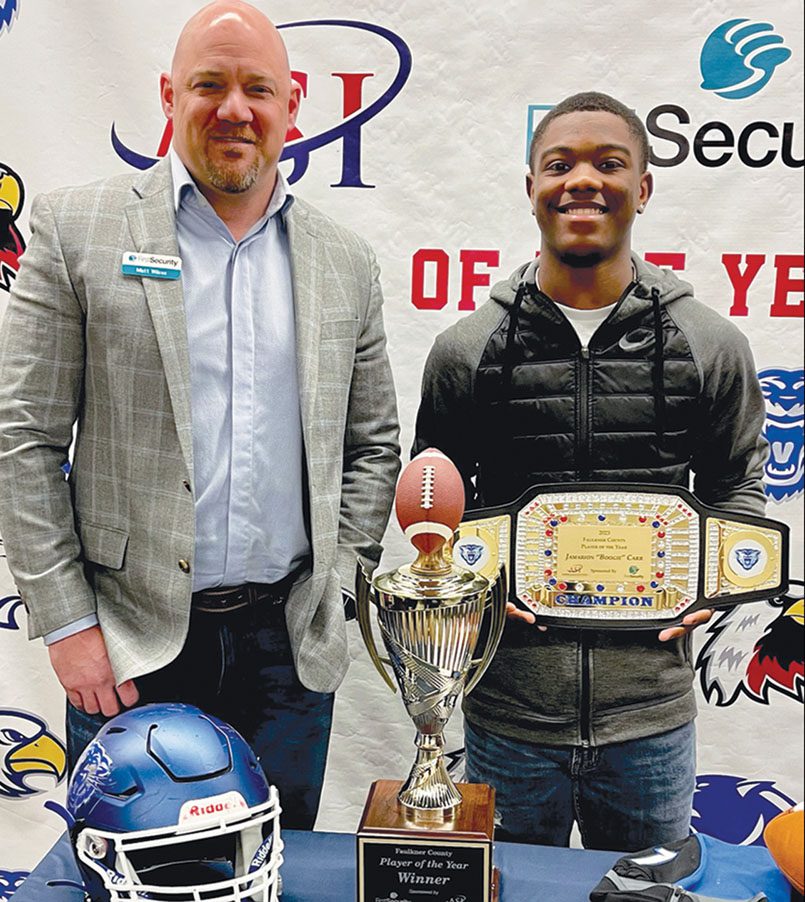 Former Arkansas Razorback and Washington Redskin Jeff Goff was the keynote speaker for the ceremony and also announced the 2022 Player of the Year, Jamarion "Boogie" Carr of Conway.
Carr rushed for 1,157 yards and had over 1,400 yards of total offense as a senior. In his career, Boogie amassed over 3,600 yards of total offense and 32 touchdowns. He also received praise from Conway head coach Keith Fimple for his outlook, both on and off the field. "Boogie always has such a great attitude," said Conway Head Coach Keith Fimple. "He never panics, he's always encouraging, and he runs the last play just as hard as the first. For him, the sky is the limit. He will be the leader I know he can be."
In addition to being named Faulkner County Player of the Year, Carr earned 7A All-State honors this season. Next year he plans on attending Ouachita Baptist University and continue playing football. "Being selected the Faulkner County Player of the Year was really big for me. There are so many talented individuals in this area that deserved this award as well, and I'm just thankful that I was the one chosen," Carr said.  "The person I thank the most for my success in football would be my mom. I started playing in sixth grade, and no matter what she had going on she made every single game and was the loudest and proudest in the stands. Without that support I don't think I would've gotten this far, because when I was down I always knew I could look over and find motivation from her."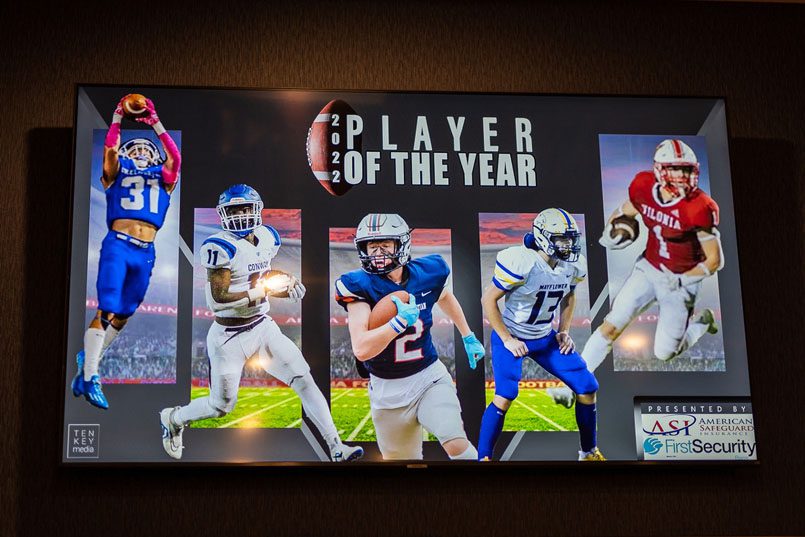 The other nominees were:
Jayden Duncan – Mayflower High School
Jayden has played football for seven years. He is a linebacker for Mayflower High School. He will be attending and playing football at Lyon College. Jayden enjoys gaming, baseball, ping pong, pool and anything active.
Cooper Johnson – Conway Christian School
Cooper has played football for five years. He is a running back, wide receiver and linebacker for Conway Christian School. Cooper plans to attend college and become a pilot, and will hopefully continue to play football. He enjoys sports, hanging out with friends and playing video games.
Carter McElhany – Greenbrier High School
Carter has played football for eight years. He is a receiver, safety and returner for Greenbrier High School. Carter plans on playing football in college and studying business. He enjoys sports and hanging out with friends.
Jack Vines – Vilonia High School
Jack has played football for 12 years. He is a receiver and safety for Vilonia High School. Jack is attending the Universi-ty of Arkansas and studying sports analytics. He enjoys sports and hunting.
Each of the five nominees received a plaque, and Carr received a championship belt as well as a customized pullover.