23 Jul

Cooking up family traditions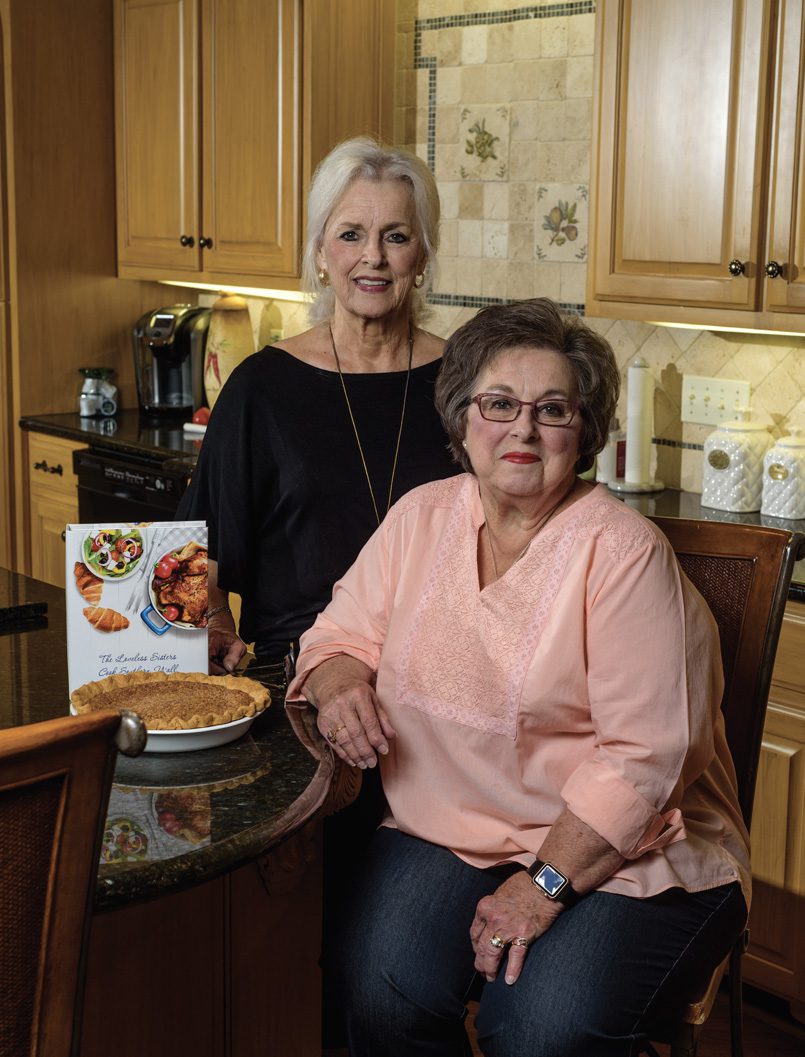 by Don Bingham
More than 15 years ago, Conway sisters Karen Edwards and Kaye  Fowlkes remarked about the need for a collection of their family favorite recipes – handed down to their mom, Ruby Loveless, and loved through the years.
As their adult children began to ask for the recipes, "The Loveless Sisters Cook Southern, Y'all" became a reality.
There are 804 recipes in the cookbook, with an index given for everything from appetizers and salads to main courses. There is also a "This and That" section. "The 'This and That' section explains to the novice cook how to make gravy," said Karen.
Not only are there tried and true traditional family recipes, there are many selections from some of the great cooks in the 501 area, including Marilyn Muyern, Lynnda Noble, Sue Gates, Lynette Sams, Doris George, Francis Reynolds, Anna Baxley, Leigh Masterton, KK Bradshaw, Paula Dean, Wanda Logan, Sarah Guinn, Madge Floyd and others.
The project took six months of hard work of compiling the recipes Karen and Kaye had been enjoying all their lives. They were totally "hands on" with typing recipes, doing page layouts and research. The Morris Press Cookbooks of Nebraska printed the publication, arriving from the press this month.
Both sisters encourage other families to consider the same project – the preservation of recipes for future generations is priceless! Their new cookbook is dedicated to their mom – a great cook and lifelong Conway resident. "While the original goal was the recipe collection, the project brought with it a grand time of bonding, a time of great fun and all family focused," said Karen.
Karen's and Kaye's daughters were also most helpful in the process, as were friends and great cooks through the years. Scattered throughout the book are a few choice recipes of well-known chefs, restaurants and recipes from great family friends.
Kaye and Karen had a difficult time narrowing down their favorites to include in this article, but among their choice recipes would have to be Karen's Cheesecake, Ozark Honey Oatmeal Cookies and Barbecued Chicken. (See 501lifemag.com for more of Kaye and Karen's favorite recipes from their cookbook.)
Here's to cooking up family favorites in the 501.
KAREN'S CHEESECAKE
Crust: 20 graham crackers
1/4 cup melted butter
1/4 cup sugar
Filling: 2 8-ounce pkgs. of cream cheese, softened
1/2 cup sugar
3 eggs, beaten
Topping: 1 1/2 cups sour cream
1 cup sugar
1 teaspoon vanilla
Cinnamon
Roll graham crackers into fine crumbs and work in butter and sugar until well distributed. With the back of a spoon, press mixture into the bottom of a 9-inch springform pan or greased 9-inch cake pan. Bake in a 350-degree oven for 5 minutes. Set aside.
Beat cream cheese until light and fluffy, using an electric mixer. Beat in sugar and eggs until smooth. Pour this mixture into the graham cracker crust. Return to oven for 20-22 minutes or until almost firm in center. Cool 10 minutes on cake rack, away from draft.
For topping, combine sour cream with last cup of sugar and vanilla. Spoon (do not pour) gently over the cheesecake. Sprinkle lightly with cinnamon. Return again to oven for 10 additional minutes. Cool to room temperature on rack. Chill in refrigerator 12 to 24 hours before serving for best results.
OZARK HONEY OATMEAL COOKIES
1/2 cup shortening
1 1/4 cup sugar
2 eggs
1/3 cup honey
1 3/4 cup self-rising flour
2 cups quick cook oats
1 cup white raisins
1 teaspoon vanilla
1 cup coconut
1 cup nuts
Mix shortening, sugar, eggs and honey. Stir in flour, oats, raisins, vanilla, coconut and nuts. Shape dough by rounded teaspoon into balls. Place 2 inches apart on ungreased cookie sheet. Flatten with bottom of a glass dipped in sugar. Bake at 375 degrees for 8 to 10 minutes or until light brown. Makes 5 dozen. An excellent chewy cookie!
BARBECUED CHICKEN
2-3 pounds chicken pieces of your choice
1 1/4 cup ketchup
6 ounces frozen lemonade concentrate
1/4 cup vegetable oil
1/4 cup prepared mustard
2 tablespoons minced dried onion flakes
3/4 cup water (or less)
1/3 cup brown sugar
1/4 teaspoon red pepper flakes
Mix ketchup, lemonade, oil, mustard, onion flakes, water, brown sugar and red pepper flakes. Bring to a boil in a saucepan and cook for about 5 minutes. Pour over chicken in a baking pan and cook uncovered for 40 minutes. Turn chicken pieces over and cook for another 40 minutes. Baste chicken with sauce in pan. Turn again and cook about 10 minutes.
Don Bingham
Recognized throughout the state as an accomplished chef, Don Bingham has authored cookbooks, presented television programs and planned elaborate events.