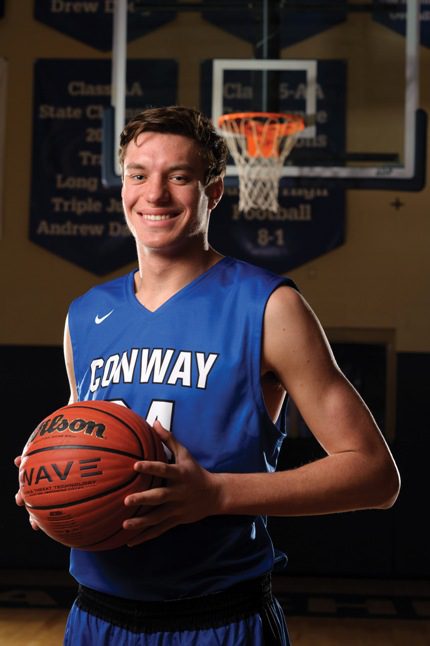 04 Mar 2015

Conway's Nekonchuk signs with Lyon College

by Levi Gilbert


It was rare this season for John Nekonchuk to not be the tallest man on the court. At 6-foot-7, Nekonchuk gave the Conway Wampus Cats a large presence on the court this winter. But physical stature wasn't the only area that Nekonchuk showed up big for Conway.

"I've enjoyed watching John's development the last three seasons," said Jeff Matthews, play-by-play announcer for Conway Wampus Cat basketball on Conway Corporation's 5 Sports. "When you walk in the gym at 6-foot-7, you have an advantage in a lot of ways, but being that big doesn't mean automatic success at this level. You have to work. You have to mature. You have to develop a game that works with your back to the basket, and John has done all of that over the last three seasons."


Nekonchuk was selected to this year's 501 Basketball Team, which boasts the best the 501 has to offer both on and off the court. The senior post player was nominated by Conway's head coach, Will Johnson.


"John runs the floor well offensively and defensively," Johnson wrote in his nomination. "He protects the rim with his length and ability to block shots as well as rebound."


Nekonchuk's large personality was just as vital to the Wampus Cats as the length he provided at the rim.


"He's a great teammate, student and an active FCA leader," Johnson said. "His communication and positivity make him a great teammate, and he's respectful and jovial."


The senior power forward/center started playing basketball in Upward in the first grade. He said he and his family were looking for an activity for him to get involved in, and his size — even at that age — led them to basketball.


"I was taller than everybody, so I decided to try it," Nekonchuk said.


Naturally, as he continued to develop and hone his coordination, dunking became a gift.


"The first time I dunked on someone in the summer of ninth grade is one of my favorite memories," Nekonchuk said. "I just cut up the baseline and the guy got in the way. I had been dunking all year in practice and thought I would go for it in the game. I dodged his hand with the ball and put it in the rim.


"Dunking is fun. It's probably my favorite thing to do on the court. It gets the team hyped. It gets you hyped."


Nekonchuk helped lead the Wampus Cats to a fifth-place finish in the 7A/6A Central, earning the third seed out of the Central in the 7A state playoffs.


"John played a huge role in how we scored, rebounded and defended teams this year," Johnson said. "John has very bright future ahead of him."


In February, Nekonchuk earned a full scholarship to Lyon College, where he will continue his basketball career.


"I fully expect him to have success at Lyon," Matthews said. "He does have a good game with his back to the basket, but I could easily see him play power forward in college. That mid-range jump shot that he has developed will make him effective on the next level."


Off the court at Conway High, Nekonchuk is involved in volunteerism through Caring Cats and is a member of Future Business Leaders of America. He attends church at Conway First Baptist and is involved at Conway KLIFE.


In his down time, Nekonchuk is an avid outdoorsman — a "big hunter and big fisher." But he won't be sharing any of his favorite hunting and fishing spots any time soon.


"I can't tell that," he said, smiling. "Come on now."


The Wampus Cats play the tournament host team in the first round of the 7A state playoffs this week at Springdale Har-Ber.