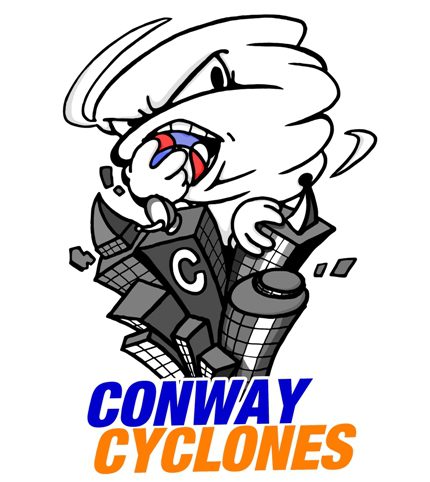 20 Nov 2012

Conway's first professional sports franchise enters second season

The Conway Cyclones, a member of the American Basketball Association (ABA), was founded in August 2010 to provide professional sports entertainment for the 501 community.

The Cyclones began a 16-game schedule Nov. 17 at Hendrix College, where the team plays all its home games, against the North Dallas Vandals. The team will be in action again at 7:30 p.m. Saturday, Nov. 24, against the Central Arkansas Grizzlies, at Hendrix College.


The Cyclones are owned by Brandon Kimbrough and coached by Dedrick Harris. Conway finished its inaugural season, a 30-game schedule, with only six losses. The Cyclones were the South Central Division champions and appeared in the ABA playoffs.


The Cyclones have 11 players according to the team website – James Allen, Ryan Barnes, Tony Briggs, Tyrone Davis, Darius Easton, Herman Harris, Jason London, Elijah Muldrow, Vincent Patterson, Daniel Watson and Chris Young. Some Cyclone players appeared in the ABA All-Star game in St. Petersburg, Fla. last season.


The Cyclones hold various events in part with the Boys and Girls Club of Faulkner County, who the team is currently partnered with. The Cyclones held two "Club Night" events last season to invite students to the games, free of charge.


During the offseason, Conway partnered with many community programs to help non-profits and other programs in the 501.


The team's goals are listed as: "provide family fun entertainment at affordable prices, assist in building non-profit organizations, recognize student-athletes (all sports), recognize individuals involved in child education and provide a platform for young basketball players to have an opportunity to play overseas and possibly in the NBA."


For more information on the team and a schedule, visit conwaycyclones.com or contact team owner Brandon Kimbrough at 501.240.4388 or [email protected].