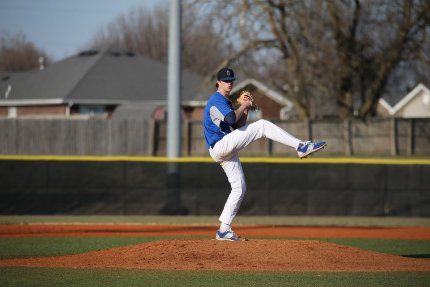 24 Nov 2015

Conway's Cahill signs with ASU

Collin Hasty Cahill, a senior at Conway High School, has signed a letter of intent and accepted a scholarship to pitch for Arkansas State University in Jonesboro. Collin will join the A State Baseball Family in the fall of 2016.

He is a son of Mary Jane Hasty Pettit of Conway and Doug Cahill of Morrilton. Collin's grandparents are Tom and Bonnie Hasty of Stuttgart, and Don and Brenda Cahill of Morrilton.

Collin will be majoring in business.

"The family of Conway Baseball is happy to see Collin Cahill get a chance to move on to the next level of competition with Arkansas State University," said Noel Boucher, head coach for Conway High School Baseball. "Collin is a fine, hardworking young man that will be an excellent addition to ASU baseball, and we wish him well."

The Arkansas State baseball program recently announced the addition of 10 student-athletes, including six from Arkansas, during the early signing period for the 2017 season.

"First of all, I would like to commend the efforts of assistant coaches Noah Sanders and Caleb Longshore for a great early signing period for the Arkansas State baseball program," Red Wolves head baseball coach Tommy Raffo said. "They have spent a lot of time on the road identifying and evaluating the right student-athletes for A-State baseball."

In addition to Cahill, the Red Wolves' class includes Blake Wynn (Star City), Garry Hill (Star City), Austin Powell (Star City), Chase Nix (Benton), Colten Nix (Benton), Conrad Ray (Germantown, Tenn.), Cullen Ray (Germantown, Tenn.), Grant Schroeder (Aurora, Colo.) and Tyler Mitzel (Sioux Falls, S.D.).

"We had three goals in mind going into the early-signing recruiting process," continued Raffo. "First, we wanted to find young men that show a passion, toughness and a want to play for A-State baseball with a future to play at the professional level. Second, we wanted to continue to create a balance for future Red Wolves teams. Third, each young man we recruit must be able to compete for championships early in their career. We feel like this is an awesome recruiting class for the Red Wolves baseball program."

Cahill is a 6-5, 200-pound pitcher, but missed most of last season with an injury. Despite that, he is ranked as one of the top left-handed pitchers in the state and 11th-best overall player by Prep Baseball Report. In the summer of 2014, he was 3-0 with three saves and a 1.88 ERA with 24 strikeouts in 18 innings. He was recipient of the Marvin Delph award in recent years and also made it to the third round of Team USA tryouts this past summer.

"Collin is a really good left-handed pitcher with size that can step in and pitch right away for the Red Wolves," said Raffo. "He commands his fastball with velocity with a plus breaking ball."