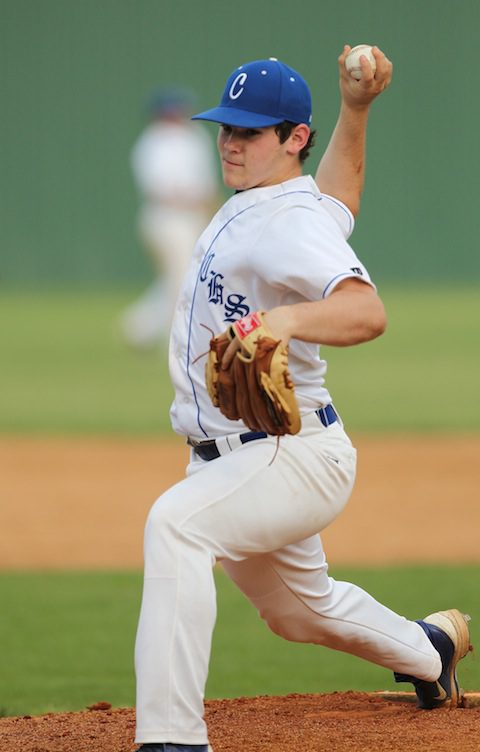 17 Apr

Conway's Bubba Carter tosses no-hitter

by Sonja J. Keith


Conway High player Bubba Carter accomplished something Wednesday night that few high school pitchers do – a complete game no-hitter.

Bubba, a sophomore, was playing at home in a conference game when he recorded the no-hitter against Little Rock Parkview. The final score was 8-0.


According to Billie Carter, his son has played baseball since age 5, primarily at catcher. This is his first year to start pitching for the high school team.


"From a dad's point of view, I always thought catching could get him into college but he always wanted to be a pitcher," Billie said, adding that his son's days as a catcher for the high school team are apparently over. "I'm pretty excited about it. He's pitched 37 2/3 innings and he's only given up three earned runs."
Billie said he was using an app on his phone to record the pitch count. "I had no clue he was throwing a no-hitter."

After the game a woman who was keeping up with the score sheet asked Billie if he wanted her to tear the sheet out for Bubba to keep.
"I still didn't have a clue he pitched a no-hitter," Billie said, adding that he told the woman that he had kept up with the count on his phone.
"She said, 'Are you sure you don't want this?' My wife (Salina) and I were the only ones in the ball field who didn't know," Billie said with a laugh. "I'm kind of glad I didn't. It would've kind of stressed me out."

Billie added that Bubba made a couple of good plays on the mound and the defense also played well.

"I have the score sheet and the ball. One of his teammates gave the ball to him and he brought it out and gave it to his mom. It was a pretty exciting night."
After the game, Bubba was quick to point out how well the entire team played. He was also adamant about giving God the glory. "Anything I do, it's not just me, it's the whole team, and it's all God's doing."
Carter struck out eight batters and walked two. He faced only 22 batters and threw 88 pitches. Cade Jones, Nick Starr and Evan Wilson paced the Cats with two hits each. Jones went 2-for-4 with a double, triple and 4 RBIs. Wilson was 2-for-3 with a single and a triple, and Starr was 2-for-3 with an RBI. Jacob Adams and Quinton Wyrick also had a hit each for the Cats.
In the second game of Wednesday night's doubleheader, CHS beat Russellville 9-1. The winning pitcher was senior Conner Prout. Prout pitched a complete game, in which he struck out seven batters, allowed five hits and did not allow a walk.
Conway jumped ahead 4-0 on two base hits and four Cyclone errors in the bottom of the first inning. Conway added single runs in the third and fourth innings and three runs in the sixth. Jacob Adams led the Cats at the plate going 3-for-4. Nick Starr collected two hits with 2 RBIs, and Carson Cook hit a solo home run. Evan Wilson, Kyle Alexander and Cade Jones also had base hits for Conway.

CHS moved to 15-3 on the season, 8-2 in the 7A/6A Central conference. With the win, the Cats maintain the conference lead with four conference games remaining.
Conway is scheduled to play a double-header against Fayetteville, who is in first place in their conference, beginning at 5 p.m. Friday at CHS.
Stats provided by Tim Jones.