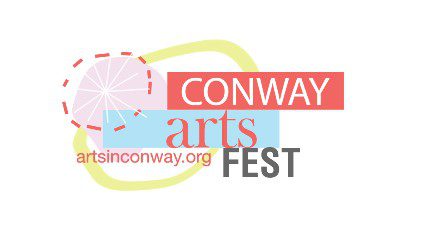 21 Sep

Conway's ArtsFest kicks off Sept. 26

The University of Central Arkansas continues to play a major role in ArtsFest, Conway's weeklong celebration of music, visual art, theatre, dance, creative writing and film that will take place Saturday, Sept. 26, through Saturday, Oct. 3.


The festival marks its ninth year of bringing arts events to the community and is hosted by the Conway Alliance for the Arts (CAFTA). All events are free unless otherwise specified.


This year's events are inspired by a S.T.E.A.M. (Science, Technology, Engineering, Art and Math) theme, highlighting the connection between the Arts and STEM subjects. The theme will be represented in sculptures created from recycled materials by artists Alice Guffey Miller, from Monticello, and Washington D.C.-based artist Dan Steinhilber. Both sculptures will be on display during ArtsFest. Miller's will be featured in the Simon Park fountain in Downtown Conway and Steinhilber's will be on the University of Central Arkansas' Baum Gallery lawn.


"We have a very exciting schedule this year," said ArtsFest Chair Beth Wilson Norwood. "By focusing on the connections between the arts and the traditional STEM subjects, we have been able to forge new partnerships, allowing us to put together a lineup that will appeal to lovers of the arts, sciences, math and technology."


The festival's S.T.E.A.M. focus also highlights a free performance and free lecture by Third Coast Percussion, the ensemble-in-residence at the University of Notre Dame. The group will present its WAVES project (Wonder, Arts, Vibration, Energy and Science) and engage students in hands-on lessons about music, sound, engineering and design. The lecture on "Entrepreneurship for Artists" will be held at UCA's Snow Fine Arts Recital Hall at 1:40 p.m. Thursday, Oct. 1. The public concert will be held at Reynolds Performance Hall at 7:30 p.m. Friday, Oct. 2.


Third Coast Percussion embraces technology and encourages audience engagement. The ensemble enhances its performances by offering cutting-edge new media, including free iPhone and iPad apps that allow audience members to create their own musical performances.


ArtsFest also features schools and local art organizations, including UCA, Hendrix College and the Conway schools, that will host events throughout the city. The festival will also include a wide variety of other events and activities such as interactive visual art, gallery exhibits and music, dance and theatre activities for both kids and adults.


ArtsFest events kick off Sept. 26 when several art exhibitions will be on view, including Steinhilber's outdoor sculpture installation and gallery exhibit at the UCA Baum Gallery; Independent Living Services Art Exhibit at Bob's Grill on Oak Street; and the college student competitive exhibit "Reimagine Society" at the Faulkner County Library.


Additional events on Sept. 26 include Hendrix College Family Weekend Choir Concert held in Staples Auditorium at 10 a.m. and an author fair at 1 p.m. in the Faulkner County Library with a local and regional author meet-and-greet event.


Two events will be held on Sunday, Sept. 27, at the Faulkner County Library: An artist reception and awards ceremony at 2 p.m. for the "Reimagine Society" college student competitive exhibit and a group reading at 3 p.m. exploring an art and science theme, hosted by the Conway Writer's Group.


"Joseph and the Amazing Technicolor Dreamcoat" will be presented at UCA's Reynolds Performance Hall at 7:30 p.m. Monday, Sept. 28. The musical showcases the work of renowned composer Andrew Lloyd Webber and lyricist Tim Rice.


Two midday concerts will be held on Tuesday, Sept. 29. The Conway Composer's Guild will host an hour-long concert featuring recent work by local composers during a Lunchtime Concert at First United Methodist Church at noon. A public presentation by the Ceruti String Quartet will commence in UCA's Snow Fine Arts Recital Hall at 1:40 p.m. The Quartet's mission of inspiring the next generation of chamber music fans and musicians will continue Wednesday, Sept. 30, when it will teach a masterclass to Conway High School students. Later that evening, high school and college string quartets will perform in the Reynolds lobby at 7 p.m. prior to the Ceruti's free public concert at 7:30 p.m.


"Tales from the South," a radio program specializing in Southern storytelling, will make its second ArtsFest appearance and will broadcast a special Banned Books Week episode beginning at 7 p.m. Tuesday, Sept. 29, at the Faulkner County Library. Before the broadcast, a variety of food trucks will be on site at 5 p.m. with live music beginning at 6 p.m.

This event is free and open to the public, but attendees are requested to please pre-register at 501.327.7482 or email [email protected].


Also at 7 p.m. Thursday, Oct. 1, UCA's two new creative writing faculty members, poet Sandy Longhorn and creative nonfiction writer Jenny Case, will read from their work at the Faulkner County Library.


Kids and adults will enjoy seeing the artwork of Conway school students, opening for display at the American Management Lobby in Downtown Conway at 3:30 p.m. Friday, Oct. 2.


ArtsFest reaches its apex on Saturday, Oct. 3, with its events "Art in the Park" and "Light Up the Night" in Simon Park. The first event is a tour of Downtown Conway's historic architecture hosted by First United Methodist Church. The tour will begin at 10 a.m.


"Art in the Park" will also begin at 10 a.m. in Simon Park. This event is geared to families and will feature hands-on art activities, performances, music, Art Marketplace vendors and food trucks. Activities will include interactive paintings, tape Origami presented by the Museum of Discovery, a puppet show, caricatures, an interactive chalkboard wall, cardboard car building hosted by EcoFest and a collaborative painting on a real car.


After 5 p.m., Art in the Park transforms into "Light Up the Night." This event features fun, hands-on art activities, an interactive artist projection by Scott Meador and live performances on the Kris Allen stage featuring several local bands.


The Co
nway Film Festival, in its seventh year as an ArtsFest event, will also take place on Oct. 3 with screenings at the Conway District Court Building from 7 to 9 p.m. The Conway Film Festival is sponsored and coordinated by Psi Delta Kappa, UCA's cinematic, co-ed honors fraternity.


Steinhilber, the Ceruti String Quartet and Third Coast Percussion are funded by the UCA Arts Fee. Miller's participation is made possible by a grant from the Arkansas Arts Council Arts on Tour with additional support from Salter Properties.


For more information, a full schedule of events, information about an Art Marketplace booth, submission to the Film Festival and volunteer opportunities, visit artsinconway.org or email [email protected].


ArtsFest is planned and presented by the Conway Alliance for the Arts (CAFTA), its board of directors and community volunteers. Updates and other information will also be posted on ArtsFest's Facebook page at facebook.com/ConwayArtsFest as well as on Twitter and Instagram @conwayartsfest.