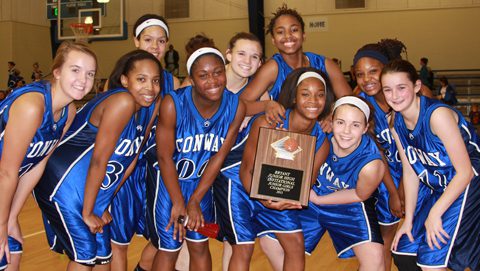 20 Dec 2011

Conway White Lady Cats – winners on and off the court

by Mark Oliver


Since November 2009, something special has been happening for a group of Conway basketball players.


The Conway White Lady Cats basketball team is currently 13-0 this season and has an overall 34-game winning streak over the last two years. The team has not lost since they have been playing together for Conway.


What's even more special is the fact that they are merely freshmen.


The Lady Cats streak was nearly broken last year as the Lake Hamilton Lady Wolves took Conway White into overtime. "It was a tough game because with some players playing both eighth and ninth grade [games] and getting into foul trouble, there was no room for substitutions," said Coach LaShanta Johnson.

"Christin Rogers and Megan Goodnight had to play out of [their usual] positions, but were determined to make sure they did not break the winning streak and gave it all they had to lead the team to another win." Conway White went on to defeat Lake Hamilton, 33-30.


So what does it take to win 31 straight games?


"It takes a lot of practice, dedication and determination to achieve some of the accomplishments we've earned as a team," said freshman point guard Jordan Danberry.


"At times, it's tough because you are held to very high standards and everyone is out to get you," added freshman guard Kianna Speight. "You have everything to lose by losing one game, but at other times, it's great because winning and being the best is a great feeling."

"The constant drive to get better and be better is what keeps this team successful," Johnson said. "Some of these girls have been playing basketball since the third grade and have had the fundamentals and the attitude to compete instilled in them at a young age. Those girls were determined to make sure all of their teammates had the same mentality, and I have only seen the drive intensify over the last three years."

Only freshmen in high school, these girls are already drawing attention from many schools, including Arkansas, Arkansas State, Oklahoma State, Vanderbilt, Georgia Tech, Southern Methodist, Texas Christian College and the University of Central Arkansas.

The Lady Cats excel in the classroom as well, with a team GPA of 3.5. Two students – Speight and Sidney Freyaldenhoven – have 4.0 averages since seventh grade. "I expect the girls to maintain a C average in all classes, and this team exceeds that with all As and all As and Bs," Johnson said.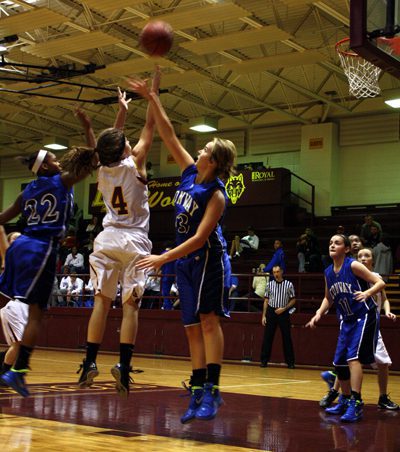 Over the holidays, the team will take time to celebrate Christmas together. "We usually exchange gifts, but this year the girls decided to go in together as a team and give to some less fortunate than themselves," Johnson said. The team plans to go shopping and wrap Christmas presents for families in the CASA (Court Appointed Special Advocates) program in Faulkner County.