By Don Bingham
Located at 1010 Main St., Doe's Place is the newest restaurant in the Conway culinary lineup of choices — and what a good one, at that!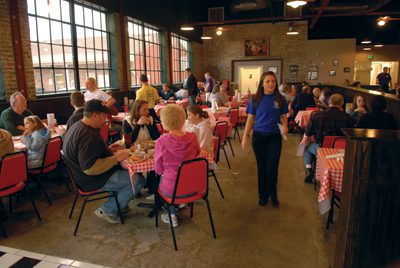 First of all, the art deco surroundings and comfortable atmosphere will take you back to the early years of Downtown Conway, when the Parrott Steel Chevrolet Company occupied the facility and then the Bill Dean Chevrolet business took over.
Today, Doe's occupies the space with a menu selection of fine dining!
George Eldridge is the proprietor and he also owns the Doe's in Little Rock. There are 12 locations of Doe's Place — with the original restaurant still serving in Greenville, Miss. — having started 65 years ago under the leadership of Dominic "Doe" Signa. The Little Rock location is celebrating its 20th year of serving Arkansas diners!
Their mission statement and vision are simple — "Good food and good service." From tamales with chili to sandwiches and steaks — you'll find almost anything you'd want in a steakhouse.
Where as the Little Rock Doe's is often full of legislators and politicians, especially during the session, the Conway establishment caterers to the entire family.
Select from the "For Goodness Steaks" offering on the menu and your choices will be T-bone, porterhouse, sirloin, or an 8 oz. prime fillet. The potatoes are amazing, and yes, they have added a delicious side of green beans with these entrees.
Of course, there are other items on the menu as well, including sandwiches, hamburgers, pasta and salads.
There is also a party room that can house up to 80 guests, and the restaurant is open for lunch and dinner Monday through Friday, and for dinner on Saturday.
If you are short on time, try the carryout menu by calling 501.764.1424.
The staff is courteous, accommodating and efficient — Conway welcomes Doe's Place!