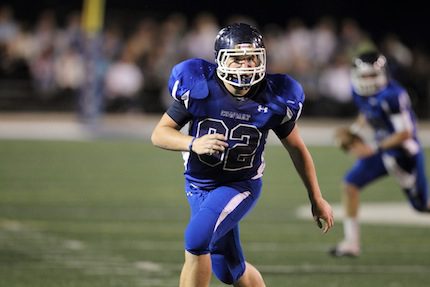 11 Aug 2013

CONWAY: Wampus Cats ride 'great off-season' into fall

Conference: 7A/6A Central
Coach: Clint Ashcraft
2012 Record: 8-3 (5-2)


The Wampus Cats missed out on a third-straight conference title in 2012, but it was another broken streak last fall that more than made up for the conference title miss — Conway won a playoff game for the first time since 2009.

The Wampus Cats beat Rogers handedly at home in the first round, 42-6, but the season came to an end in round two with eventual state champion Fayetteville.


Conway has some big shoes to fill offensively. Gone are quarterback Cody Rhoades and running back — and UCA signee — Jeff Anderson. The Wampus Cats also face some big holes to fill on the offensive line, but there are plenty of talented new- comers ready for their chance under the lights.


"[Our weaknesses on offense will be] replacing our quarterback and running back," said Coach Clint Ashcraft. "We've had a great off-season of strength gains and great senior leadership."


The quarterback position may not yet be set in stone, but whoever wins (juniors Harrison Pew and Grant Ellis will battle for the spot) will have an excellent receiver in returning starter and potential all-state talent Sidney Moore. Junior Kevin Chamorro could have a breakout year stepping in at running back, and senior Evan Wilson also returns to the backfield after an injury kept him off the field in 2012.


While there are significant holes on the offensive line (graduates Bryton Booher and Brannon Kotch both signed to play college ball), seniors Blane Joyner and Danny Thomas provide leadership as returning starters at center and guard, respectively. Senior Jagger Barnett also returns on the offensive line, and Junior Colton Jackson could be the top newcomer at tackle.
The real strength for Conway this fall may just be on the defensive side of the ball. With seven starters returning, led by senior defensive end and 501 Football Team honoree Cortez Akins, the Wampus Cat defense will be formidable.

"Cortez plays hard from start to finish and tries to do everything exactly how he is asked to do it," Ashcraft said. "I expect him to be an all-conference and all-state player for us and a leader on our defense."

Senior Kevasia Tate also returns on the defensive line, and junior Saxon Smith and senior Andre Willard will also see plenty of time on the line.

"Rebuilding the defensive line [is a focus]," Ashcraft said.

Seniors Jackson Smith, Justin Vinson and Landon Hood all return at linebacker, and Nick Starr, Beau Bailey, Beau Walter and Hunter Rose will provide outstanding depth in the linebacker corps.

The Wampus Cats boast three returning starters in the secondary: senior A.J. Burton at cornerback and senior Malik Clemons and junior Collin Condit both at safety. Junior Jorge Maldonado will also see time in the secondary, as well as time at receiver.

"We've had a very productive off-season," Ashcraft said. "Our seniors have done a great job of leading our younger guys. We have some positions to replace, and once we get those holes filled, we will have a solid football team in 2013."

Schedule
Sept. 6 Bryant
Sept. 13 at Jonesboro
Sept. 20 at Cabot
Sept. 27 Russellville
Oct. 4 LR Hall
Oct. 11 at Ft. Smith Northside
Oct. 18 Ft. Smith Southside
Oct. 25 at Parkview
Nov. 1 Greenwood
Nov. 7 at LR Catholic

501 Football Team 2013 –
Cortez Akins
Nominated by Coach Clint Ashcraft
Classification: Senior
Position: DE
On the field: He plays hard from start to finish and tries to do everything exactly how he is asked to do it.
Off the field: He always has a smile on his face, has a great attitude and helps his younger teammates.
Community work: Involved in youth leader- ship team at his church, volunteered with Bethlehem House projects and assists coaching staff in a summer pee-wee camp.
Sportsmanship: He keeps his mouth closed and plays hard.That's what every coach wants. He puts the team first and he's always "coaching" younger players that play his position.
Classroom: In the three years we have had Cortez, we have never had one problem with him in the class- room. We have an academic watch list every nine weeks, and he has never come close to being on it.
Expectations: To be an all-conference and all-state player and a leader on defense.
Last season: He started every game at defensive end and had a great junior season.