08 Aug 2015

CONWAY: Wampus Cats prowling for another 7A Central conference championship

Conference: 7A/6A Central
Coach: Clint Ashcraft
'14 Record: 10-1 (7-0)

The Conway Wampus Cats gave fans a season for the ages in 2014.


"Our guys played well all year, going undefeated in the regular season and winning our conference," said Coach Clint Ashcraft. "We had a lot of guys step up and play well that had not had much Friday night experience before the season started. Our defense allowed 18 points per game last year and played really well on third downs, only letting our opponents convert on third down 31 percent of the time. Our offense gained right at 4,600 yards and averaged 37 points per game."

Jeff Matthews has been covering Wampus Cat football for more than a decade as play-by-play announcer for Conway Corporation's Channel 5 Sports. According to Matthews, last season truly was special.


"I think for the program it was validation of the kids and the work that goes into being an elite-level high school football program," Matthews said. "Conway has everything in place for success — coaches, facilities, community support — but ultimately the interest in the program has to do with the kids on the field, and last year was definitely a memorable year."
The Wampus Cats graduated several starters from last year's conference championship squad, and only three starters return on offense and two on defense. But Conway is in good shape at the position that matters most on the offensive side of the ball as senior Breylin Smith returns for his third year at quarterback. Smith completed 62 percent of his passes in 2014 for 2,187 yards.

"It's not very often that a sophomore is handed the reins to a 7A program like Breylin was at the start of his career, and he handled that season with a tremendous amount of poise," Matthews said. "That experience led him to his junior year and an undefeated regular season. The thing that I think makes Breylin special is that he has a coach's ability to recognize defenses and situations as they are happening. Friday nights have never intimidated him. I think that only comes from being prepared, both taking time to prepare as an individual and to be coachable, which Breylin has proven that he is."
Conway's stud running back from 2014, Kevin Chamorro, who had a record-setting year in his senior campaign, graduated in May. But Mark Odom proved a worthy backup to Chamorro, and he is primed for a breakout year as a senior this fall.

"Mark has the chance to have a really great year," Matthews said. "I think he's got almost the perfect size for a running back. Look at the top backs in the NFL and major college football and they are all right around 6 feet tall and 210 pounds, and Mark is right there at 6-feet, 208. He runs hard and has the type of speed that will surprise many defenses that think of him as a power back only."
Senior Dartanian Thompson returns at H-back. Conway fans will see a bevy of new receivers this fall — seniors Demontay Allen, Jordan Ester, Brayden Leach and Tanner Thone and juniors Marquise Pleasant and Taj Speight. Junior Jack Pillow will start at tight end.

Conway will field an offensive line full of seniors — Ethan Williams, Josh Bader, Sam Cloyd, Jacob Brown and 501 Football Team honoree Zach Mills.
"Zach Mills and Ethan Williams will anchor the offensive line this year and their experience will be a key factor in what the offense can do," Matthews said. "Jacob Brown also got some time on Friday nights last year. If they can give Breylin enough time, he will put the ball on the money. Give Mark a crease, he's got the ability to take it the distance on any play."

Seniors Sawyer Tomlin and Untavise Ellis and juniors Nick Fletcher and Logan Camp will start at linebacker. Seniors Cole Tollett, Connor Maltbia and Jaron Jackson and junior Kameron King round out the secondary. Seniors Austin Norris, Donovan Watson and Datrion Macon and junior Donald Joshua lead the defensive line.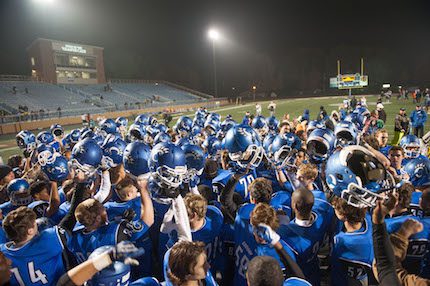 "Austin has been one of my favorite Cats to watch over his career," Matthews said. "You could see him developing into a confident player and one that has grown in ability and stature. He has put some muscle on his 6-foot-4 frame and because of that size and ability and work ethic he will get the chance to continue his career playing college football. He will be the leader on that side of the ball. Nick Fletcher's size and experience will make a difference also."

Conway will have to grow up fast to find more success this fall.
"We need guys to step up and play well with little Friday night experience, much like last year," Ashcraft said. "We've had great off-season gains in the weight room. We are a little bigger on the defensive line than we have been."

After running the table last year in the regular season and earning the 7A Central crown, the Wampus Cats are riding strong momentum into the fall. Conway's two biggest opponents — Bryant and Greenwood — are home games this year.
"Having those two at home are an advantage without a doubt," Matthews said. "Both are always good, and they both always bring a ton of fans and it makes for a fun environment on Friday night. I think Catholic will be improved this year and playing at War Memorial Stadium can always take a little while to get used to, but I don't expect anything other than Conway to be completely prepared for that moment when we get to it.

"I know I feel like a lot of fans feel — ready for the season to be here!"