09 Apr 2020

Conway Wampus Cats named basketball champions

For the fifth time in the program's history, the Conway Wampus Cats are basketball champions.

With Gov. Asa Hutchinson's recent announcement of the extended closure of public schools through the remainder of the 2019-20 school year due to the impact of COVID-19, this cemented the fact that Conway's 6A state championship matchup with the Central Tigers would not be held.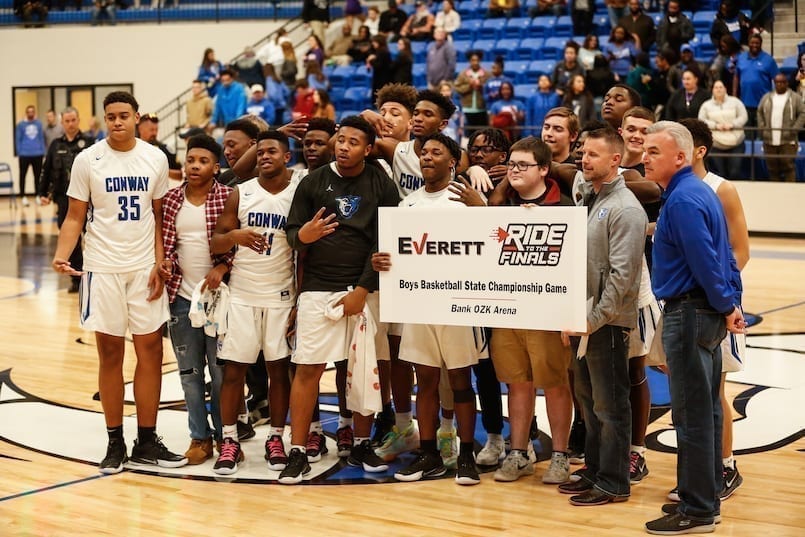 "As bad as we wanted to play, this decision had to be made," said Conway Coach Salty Longing. "We are fortunate that we were able to have our season. I feel terrible for those spring sport athletes and coaches, especially seniors who won't even get the chance."
For Longing, this unique experience has opened up unique opportunities to coach his players.
"Discipline," Longing said. "Many of our players now drive, or run around with friends during the week or weekend. Social distancing is tough for all of us, but especially for this age group, but it's the expectation. Keep yourself safe, keep others safe."
After Gov. Hutchinson's announcement, the Arkansas Activities Association released a statement announcing, "Boys and girls teams who qualified for the finals in class 3A, 4A, 5A and 6A will all be named 2020 State Basketball Champions."
"I was pleased that they didn't use the term 'co-champions,'" said Jeff Matthews, play-by-play announcer for Wampus Cat and Lady Cat basketball on Conway Corp. "All of these teams earned the title of state champion for the season that they played and the circumstances surrounding the season."
On paper, a championship game featuring Central and Conway, who were the No. 4 and No. 5 seed out of the 6A Central, seemed highly unlikely. But, if you watched either team through the second half of conference play and in the state tournament, both teams had developed into contenders.
"Coach [Brian] Ross has done a tremendous job in revitalizing the Central program in just two short years," Longing said. "They had soundly beaten us twice, so our kids were geared to have one more chance at beating the Tigers. I think what makes this story interesting is that we were lower seeded teams — teams that maybe weren't supposed to be there. Both teams had to run a difficult gauntlet to get to the finals. Because of our paths through the state tournament, if two teams were going to share, it should be us."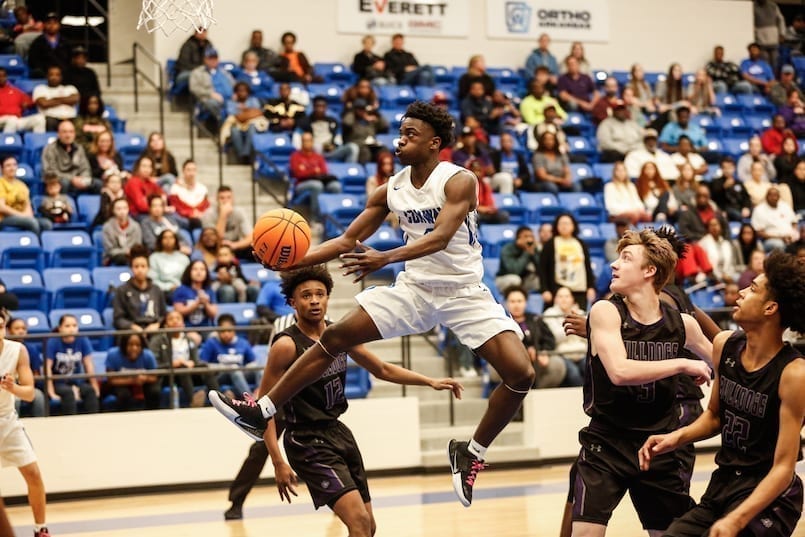 After surviving a close call against Bentonville in the first round, the Wampus Cats turned in their most dominant performance of the season with a win over top-ranked North Little Rock. Conway followed that up with another confident effort over Fayetteville in the semifinals.
"This team overall was not as big, not as athletic and not as deep with talent as our team last year, but this team gelled so well," Longing said. "Players accepted and played their roles. I think about us going 10-2 in non-conference with an extremely tough schedule, winning two tournaments, including a win over nationally ranked Las Vegas Durango. Coach Harrell and I were a little surprised about our early season success.
"The development of Jayden Williams and his dominance in the post down the stretch of the season made us a totally different team. Getting Bryce Bohanon back midway through conference to provide depth and athleticism at the guard position was huge. Lucas Foster developing not only as our primary shooter, but becoming our best defender versus great shooters. Role players like Chase Boyd, Paul Harris, Xavier Robinson contributing on both ends of the floor and playing huge roles in many of our wins. Kyler Spencer getting huge minutes this year as a ninth grader. Trey Tull literally carrying us offensively for huge stretches of the state tourney. Caleb, getting his 15 to 20 points every night, but raising his game in the tournament defensively. This team coming together the way it did is the best memory of this season for me."
This group of seniors all contributed on the court to this championship run, which is a rare feat.
"I think there is something to be said for seniors that are hungry," Longing said. "Lucas, Chase and Xavier had not played a meaningful varsity minute until this year. They paid their dues. That is not easy. Many kids in that position quit or transfer. They simply continued to work, and each kid found their role on this team. That is one of the most rewarding things for our staff.
"Trey Tull became the leader of this team. A two-year starter at point guard, he played huge in our biggest games. His state tournament performances will be historic, averaging 19 points versus Bentonville, North Little Rock and Fayetteville. We are not state champions without his efforts. Caleb was our 'go-to' all year. You knew he would get his points, but we were a different team in the state tournament when he was locked in defensively and rebounding the ball the way he did."
London, an Arkansas State commit, leaves Conway with quite the Wampus Cat legacy as a three-year starter, three all-conference and all-state selections and a member of the 1,000-point club. But, most importantly, he earned a state championship ring. 
"When Wampus Cat great Austin Sullivan spoke to our team a year ago, he told our kids that if you truly want to leave a legacy, win a state championship," Longing said. "We can talk about numbers and stats and awards all day long, but at the end of the day, Caleb and his senior teammates were responsible for 58 wins during their three years as Wampus Cats and most importantly — a state championship.
"These are great kids. Easy going, fun to be around, personable and fierce competitors. They were a lot of fun to coach."
The Wampus Cats' fifth championship is the first since 2010. Coach Longing was also part of that championship run as an assistant coach under James Bates. Longing took over as head coach in 2017.
"There has been some serious reflection about this over the last three weeks," Longing said. "There are far better coaches than myself who have coached for decades and never had the fortune to win a state title. We walked into a program three years ago that had been left in great shape by James Bates and Will Johnson. We inherited skilled, athletic players at the high school level with outstanding coaches at our middle schools and junior high. It was not a rebuild, but a continue to build. We could not have taken over at a better time.
"For me personally, it's just getting to be a very small part of something really special. This program for me is all I've ever known, and it's all I've ever cared to know. The greatest satisfaction was watching our players during that run in the state tournament accomplish what no one thought was possible. Watching them fight adversity, watching them come together, and watching them celebrate. It feels great being part of our program's fifth state championship."
"I'm so happy for Salty," Matthews said. "No one loves Conway High basketball more than him, and he has dedicated so much of his life to seeing it succeed. He joins a small fraternity of Conway coaches that have led teams to state championships, and he will always be remembered for how he goes about his job — with focus, dedication and humility."

Latest posts by Levi GIlbert
(see all)