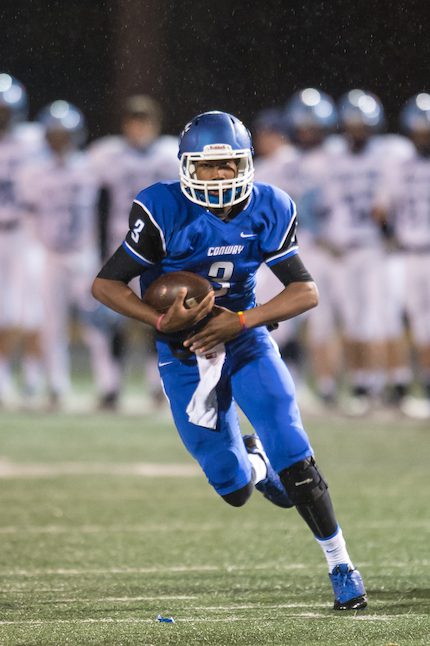 12 Aug 2014

Conway: Wampus Cats knocking on door of greatness

Conference: 7A/6A Central
Coach: Clint Ashcraft
'13 Record: 9-3 (6-1)

The Conway Wampus Cats were at the doorstep of greatness in 2013, but they couldn't quite bust down the door.

Conway (9-3, 6-1) made great strides in the playoffs. After earning a first-round bye, the Wampus Cats outlasted a talented Springdale Har-Ber team, 52-42. The Cats found themselves in the 7A semi-finals, a first for Conway in the Clint Ashcraft era. Conway took Bentonville to the wire, but fell to the eventual state champs, 21-14.


"Ashcraft continues to prove he is one of the best coaches in the state," said Jeff Matthews, play-by-play announcer for Conway Corporation 5 Sports. "He runs a disciplined, respected program. Last year proved that you can win and have a program that is run the right way."


A talented backfield — what could be one of the most talented backfields in the state — returns in full. Junior Breylin Smith gained invaluable experience as a full-time starter last fall as a sophomore.
"Breylin has a chance to be in the argument for the best that has played here," Matthews said. "He has a tremendous amount of God-given ability, and that will take him a long way, but what impresses observers the most is his desire to get better. He knows what he has to work on and is committed to doing that."

Senior running backs Kevin Chamorro and Karlil Johnson return as "thunder and lightning."

"I haven't seen every backfield in the state, but I've seen every snap these guys have played together, and I would be shocked if anyone has a better backfield," Matthews said. "Speed. Power. Vision. Agility. It's not just one, it's both of them."
Derail McCoy returns at H-back, and Brock Mitchell, Matthew Cummins and DJ Johnson give the Wampus Cats experience and depth at wide receiver. Mitchell is a member of this year's 501 Football Team.

"We expect Brock to be one of the leaders of our receiving corps this year," Ashcraft said. "[Last season] he started at wide receiver and was used as a punt returner as well. It has been great to watch Brock become a leader on and off the field for the last three years."

Senior Colton Jackson is a big presence on the offensive line at tackle. He's joined by Frank Jackson at the other tackle spot. Hunter Rose returns at tight end.

"Offensively, we have some starters back, which gives a good foundation," Ashcraft said.

Safety Collin Condit and defensive end Saxon Smith are the lone returning starters on defense.
"There's definitely some big holes to fill, but that isn't anything too new," Matthews said. "All three levels of defense will have to be solid. The interior will be big, the linebackers will be athletic and the defensive backs will be fast. They are always well coached and prepared."
Top newcomers on the defensive side of the ball include defensive linemen Austin Norris, Daniel Nyberg and Bobby Miller; linebackers Kaylan Pouncey, Hunter Scott, Kameron Laird, Jake Mathis and Daren Delaune; and defensive backs Mike Garlington, Connor Maltbia, Jaron Jackson, Cole Evans and Cole Tollett.
"We have a lot of holes to fill on defense this year," Ashcraft said. "We must have guys step up and take over on that side of the ball immediately. More importantly than any of that is our need for these seniors to lead this team and bring the young guys on quickly."

The goal is the same again this year for the Wampus Cats — be playing on Thanksgiving weekend.

"It meant a lot to get to the week of Thanksgiving," Matthews said. "That is always a goal — you have to play the day after Thanksgiving to play for a state championship. It instilled confidence that was needed. The kids are smart. They know we've had some regular season success, but they are poised to take those next steps.
"I do believe they have a chance to make some noise again this year. It's a tough non-conference schedule this year with Cabot and Jonesboro again, and adding Springdale Har-Ber will prepare them as much for November as it will for the conference season. If everyone stays healthy, they should be playing the week of Thanksgiving and maybe beyond in 2014."