19 Aug 2018

CONWAY: Wampus Cats chase 7A Central title under Fimple

Conference: 7A Central
Coach: Keith Fimple
'17 Record: 9-4

Sometimes the right mix of seniors and playmakers can lead to an unforgettable season. And that's exactly what happened for the Conway Wampus Cats in 2017.

With the combination of a prolific running game (2,396 yards from Michael George) and an opportunistic defense (plus-10 turnover margin), the Wampus Cats clawed their way to the 7A semifinals for the first time since 2013.
With only seven starters back and a new head coach (Clint Ashcraft accepted Conway's athletic director position earlier this year), change is afoot in Conway this fall.
Senior JoVoni Johnson takes over at quarterback. Johnson started several games as a sophomore and led the Wampus Cats to a playoff berth. Last fall, Johnson took snaps in rushing downs and also played some receiver. Senior Cary McClain takes over the majority of carries at running back after serving in the backup role a year ago. Senior Nick Tufu is versatile at fullback. Receiver Nick Richmond is back after a huge junior campaign. The senior hauled in 1,182 yards and 13 touchdowns last fall. Senior Will McKenna caught five touchdown passes a year ago.
"I think we are in for a treat watching Jovoni Johnson take over the reins for this team," said Jeff Matthews, play-by-play announcer for Conway Corporation's Channel 5 Sports. "He performed so well as a quarterback as a sophomore and then found himself all over the field in his junior year. There's no reason why he shouldn't be able to do a lot through the air also with the return of Will McKenna and Nick Richmond."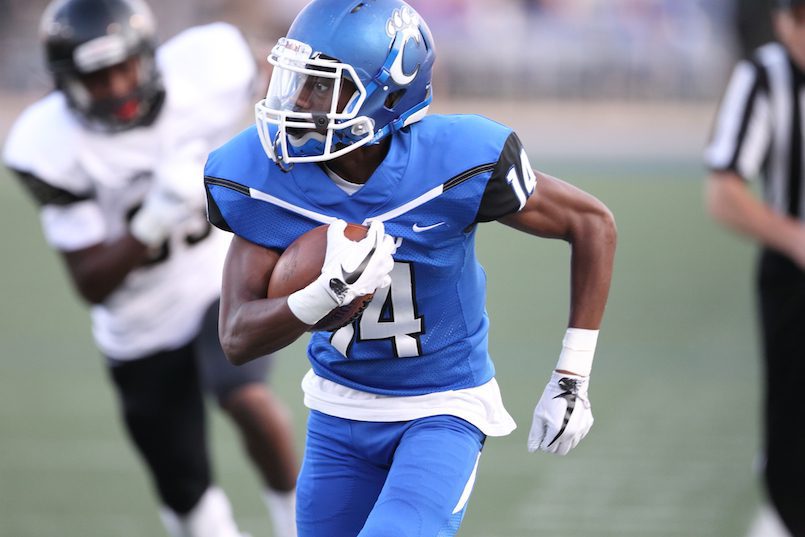 Two starters return on the offensive line: senior center L.J. Hansberry and senior guard Lance Rogers. Juniors Zaul Vences, Haze Denton and Robert Scott are primed for starting roles on the offensive line.
"We look to be able to continue the success that the previous senior class had in 2017," Coach Keith Fimple said. "We have talent and depth on the lines, but we have to grow up quick."
Conway has big task ahead of itself on defense, as last year's top five tacklers all graduated in May. Senior Kaine Aaron and junior Korlin McKinney are quick on the defensive line. Kaine was a big presence in the first two non-conference games last fall before getting knocked out by injury. He returned in Week 10. Seniors Cade Cypert, Joaquin Coria, Tyler Pierce and Dallas McAllister rotate on the defensive line.
The biggest hole for the Conway defense is replacing all the production lost at linebacker. Seniors Riley Morales, Brandon Givens, Jake Lennon and Kaden Smith; juniors Reed Hughes, Luke Bailey and Darian Criswell; and sophomore Parker Prock compete at linebacker. Senior Roman Aaron put up 67 tackles and one interception last year in the secondary. Seniors Tez Miller, Darius Washington and Malik Benton are also back in the secondary after gaining valuable experience in rotation last fall.
"I like our team defensively a lot — from the line with Korlin McKinney and Kaine Aaron to the secondary with Tez Miller and Roman Aaron — and in between will be the next wave of linebackers that Conway always seem to produce," Matthews said.
The 7A Central is brutal as always with the likes of the defending state champs North Little Rock and a deep and talented Bryant.
"For the first time in a long time, Central Arkansas is home to the defending state champion in the state's highest classification with North Little Rock," Matthews said. "They are who we are all chasing right now. It will be an interesting year with Cabot, as legendary coach Mike Malham has announced this will be his last season. Bryant will be as good as always, and you can imagine Week 10 in Saline County will have playoff implications again."
5 Players to Watch: 
JoVoni Johnson (Sr. QB)
Nick Richmond (Sr. WR)
Will McKenna (Sr. WR)
Kaine Aaron (Sr. DL)
Korlin McKinney (Jr. DL)
1 Must-see Game:
"El Dorado. They are a traditional power coming to town and facing a Wampus Cat team that will have Keith Fimple on the sideline for his first ever game as the head man in Conway. Plus, it is the earliest game any of us can remember with the new zero week, so dress cool and come watch the Wampus Cats on August 24." — Matthews
2018 Schedule:
Aug. 24 El Dorado
Aug. 31 Bentonville
Sept. 7 at Jonesboro
Sept. 21 at Southside
Sept. 28 North Little Rock
Oct. 5 at Cabot
Oct. 12 Northside
Oct. 19 at Central
Oct. 26 Catholic
Nov. 2 at Bryant
501 Football Team '18
Will McKenna
Classification: Sr.
Position: WR
On the field: Positive attitude, great hands, works hard all the time, strong desire to be successful.
Off the field: Great teammate, well-liked by teammates, always smiling. He's involved with our school's FCA program and First United Methodist Church.