26 Sep 2012

Conway volleyball team hosts fourth 'Dig Pink'

by Lee Hogan


The Conway Lady Cats volleyball team will host its fourth annual "Dig Pink" event Tuesday, Oct. 9, at Buzz Bolding Arena.

The event raises money for the Side Out Foundation, which helps with breast cancer awareness and research.


Assistant volleyball coach Andrea Bailey-Fournier, in her fourth year at Conway, got the event going after two of her aunts were diagnosed with breast cancer at the same time. One of her aunts caught the cancer in the early stages, while the other caught it at a later stage.


"The one who caught it early had very little treatment and her life is pretty much the same. The one who caught it late had to go through chemotherapy and a lot of treatment," Bailey said. "Her body has taken a lot of wear from that, and I saw that, so that's what sparked me."


Bailey immediately started looking for ways to help, and approached the team with the idea of a Dig Pink event.


Senior Molly Shipp has seen the event grow in her years at Conway.


"I wasn't really sure what it was all about, but [coach Bailey] explained it to us very well, and after I saw the turnout it became special to me," she said.

While the event is meant to help with breast cancer awareness and research, Bailey also wants this to be a learning experience for the girls on the team.


"I think it's important for them to understand that yes, it's for a good cause, but it's also for them to learn something, and to help them later in their life if one of them does have an encounter with breast cancer," she said.


Conway was one of the first in the state to host a Dig Pink event, and was the first in the 7A conference. Now, multiple teams in the conference host events similar to Conway.


In the three years Conway has hosted an event, the team has been able to raise $8,000 for the Side Out Foundation.


"We're hoping to go over that $10,000 mark this year," Bailey said.


By the time of the event, the Wampus Cat blue of Buzz Bolding Arena has all but disappeared.


"We basically take the Buzz Bolding Arena and turn it pink," Bailey said.


The arena is filled with pink balloons, streamers and everything else pink.


"We have pink jerseys and we get hair ties to go with it," junior Gabby Roark said. "We just go all-out in pink."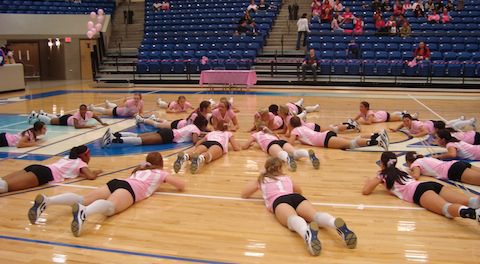 Donations to the Side Out Foundation come through raffle tickets and T-shirts sales. Raffle tickets are $2 each and can be purchased the night of the event. Prizes this year include a television and gift certificates to various restaurants in Conway. Bailey said there are usually 30 to 40 prizes each year.

T-shirts for the event are $15. They are long sleeve and pink. They will be available to purchase at the event, but are also available now at the Conway athletic office.

This year's Dig Pink event begins at 4:30 p.m. and will feature a junior varsity, sophomore and varsity game against Fort Smith Southside, Conway's biggest rival. The teams are No. 1 and 2 in the conference.

"It's a regular game in season, in fact, our most important one," Bailey said.