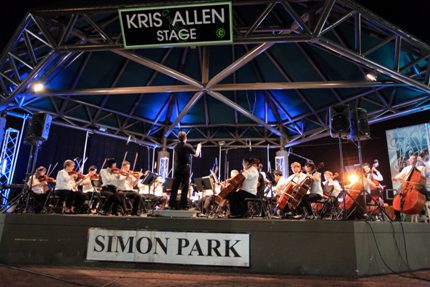 14 Sep

Conway Symphony plans season opener on Friday

The Conway Symphony Orchestra will kick off its 31st season with a free community concert at 7:30 p.m. Friday, Sept. 18, at Simon Park in Downtown Conway.


Sponsored by Southwestern Energy, it will be a great introduction to the symphony, with fan favorites and a sampling of things to come. The community is invited to bring family and friends, blankets and chairs (but no pets, please), for an evening of live music as the sun goes down. Enjoy a picnic supper, or pick up a specialty dog from the Green Cart Deli, which will be set up at the park at 6 o'clock. In case of rain, the concert will be moved to Snow Fine Arts on the UCA campus.


"I'm thrilled to be back in the heart of Downtown Conway with our annual free concert," said conductor and music director Israel Getzov. "We'll have a sneak peek at Beethoven's 9th Symphony, music from 'Raiders of the Lost Ark,' 'The Barber of Seville' and 'Stars and Stripes Forever' with special guest conductor Joyce Miller, plus more from the fabulous musicians of the Conway Symphony!"


The season will continue with Beethoven's Ode to Joy (9th Symphony) on Sunday, Nov. 1, followed by the holiday extravaganza on Saturday, Dec. 5. The spring will bring an exciting "Beatles Experience" by the Liverpool Legends on Saturday, Jan. 30 (special ticket pricing applies).


On Saturday, March 5, the CSO will present a unique collaboration with the Arkansas Shakespeare Theatre in a performance of scenes from Romeo and Juliet, plus a violin concerto by concertmaster Linda Hsu. The orchestra will also join the UCA Public Appearance series for a special performance of Disney movie music on Saturday, April 16, with tickets available through Public Appearances.


The remaining performances are at Reynolds Performance Hall on the UCA campus.


Subscription renewals are currently available through the Reynolds box office, 501.450.3265, with season tickets open to new subscribers on Monday, Sept. 21, and single tickets going on sale Monday, Oct. 5.


To make classical music more accessible to the community, ticket prices have been lowered, at $48-$87 for adult season tickets, and $15 for children/students. A "season ticket PLUS" option is available to include the Liverpool Legends concert. Single tickets are $18-$38 for adults, $6 for children/students, and $10 for UCA faculty/staff. There is also a discount rate of $15 for groups of 10 or more.


The Conway Symphony Orchestra brings professional concerts, exciting guest artists and high-quality music to the Central Arkansas community. For more information on concerts and other programs, visit ConwaySymphony.org or call 501.269.1066.