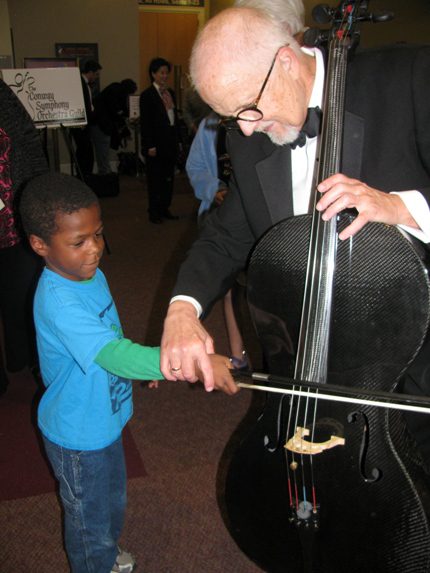 09 Mar

Conway Symphony plans 'Figaro for Families' Saturday

The Conway Symphony Orchestra is bringing opera to kids in Central Arkansas with "Figaro for Families" at 2 p.m. Saturday, March 14, at Reynolds Performance Hall in Conway.

In collaboration with the UCA Opera Theatre, this year's program will feature fun and funny selections from Mozart's "The Marriage of Figaro." Following the one-hour performance, families are invited to enjoy free crafts and refreshments, and a chance to "meet the instruments." The CSO will also be taking non-perishable food donations at the concert for the Orchestras Feeding America program to be distributed to local food pantries.


Tickets are $6 for general admission seating and are available at the Reynolds box office, 501. 450.3265, or ConwaySymphony.org. The concert is underwritten by First Security Bank with refreshments provided by ARAMARK.


In this fully staged opera, arranged especially for kids, the audience will enjoy the singing, the acting, costumes and sets, as well as the beautiful sounds of the orchestra. "This family concert is perfect for people who are newcomers to the world of opera," said conductor Israel Getzov. "Our 'highlights' version of this famous opera will be sung entirely in English, including an onstage narrator who will guide you through the performance. He'll help you get ready to enjoy all the hilarious plot twists, not to mention some of the most beautiful music ever written."


"The Marriage of Figaro" tells the story of the clever ex-barber, his lovely fiancée and a day of madness in Seville, Spain. As always, it promises to be an entertaining and educational concert for kids of all ages and their families.


The UCA Opera Theatre and the Conway Symphony Orchestra will present the complete opera at 7 p.m. Tuesday, March 17, through Thursday, March 19, at Reynolds Performance Hall. Tickets are $10 and can be purchased directly from the UCA Music Department at 501.450.3163.


Now celebrating its 30th season, the Conway Symphony Orchestra brings professional concerts, exciting guest artists and high-quality music to the Central Arkansas community. The 2014-15 season is underwritten by the Log Cabin Democrat/Women's Inc. For more information on concerts and other programs, visit ConwaySymphony.org or call 501.269.1066.