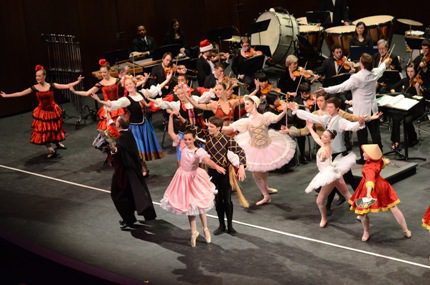 21 Nov

Conway symphony plans Christmas Double Feature

What's better than one holiday classic performed once a year? Two holiday classics performed twice!


The Conway Symphony Orchestra is doubling the excitement this year with two performances of its holiday concert, A Christmas Double Feature, at 7:30 p.m. Saturday, Dec. 3, and 3 p.m. Sunday, Dec. 4, at Reynolds Performance Hall at the University of Central Arkansas in Conway.


The Arkansas Festival Ballet will once again take the stage for highlights from The Nutcracker – but then the UCA Opera will join the orchestra to present Amahl and the Night Visitors.


Tickets are $5 for children and students, $20-$38 for adults, and $15 for groups of 10 or more, and are available through the Reynolds Box Office, 501.450.3265 or uca.edu/tickets.


The Sunday afternoon performance will be preceded by Nutcracker Sweets, a children's event with cookies, crafts, storytelling and a chance to meet the ballerinas and the Maestro.

Tickets for that event are sold separately and are $5 for children with no charge for accompanying adults. Contact the CSO at 501.269.1066 or purchase at ConwaySymphony.org.


Seeing The Nutcracker performed at Christmas time is the perfect way to start – or continue – a family tradition. "Arkansas Festival Ballet is delighted to once again add the magic of ballet to this year's holiday program," said Janet Aronson, executive director. "Our dancers love performing for and bringing joy to the enthusiastic CSO audience."


With Amahl and the Night Visitors, the CSO is bringing back an old tradition, and introducing it to new audiences. Written specifically for television, Amahl was first broadcast on Christmas Eve 1951, and quickly became a family favorite. The UCA opera theater is excited to present a fully staged performance in Central Arkansas for the first time in several years, and with a live orchestra. The story will be a familiar one to anyone who has heard of the Wise Men and the star they follow, as The Three Kings visit a poor woman and her son, bringing an important message and miraculous gifts.


As conductor and music director Israel Getzov reminds us, "There's no better gift for the holidays than time together, enjoying two uplifting stories told with the power and beauty of music."


Now in its 32nd season, the Conway Symphony Orchestra brings professional concerts, exciting guest artists and high-quality music to the Central Arkansas community. For more information on concerts and other programs, visit ConwaySymphony.org or call 501.269.1066.