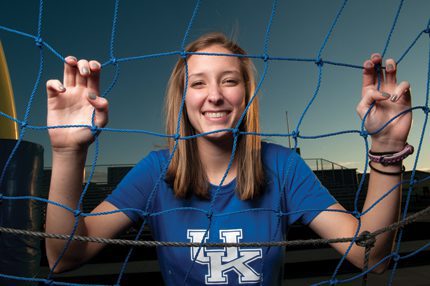 21 Jan

Conway soccer player headed to the SEC

by Donna Lampkin Stephens


Conway's Alex Carter won't be around for her high school sorority's winter formal or its charity work, will likely miss prom and won't walk across the stage at graduation in May.

She has traded all of that to graduate early and head to Lexington, Ky., where she will enroll a semester early as a scholarship soccer player at the University of Kentucky.


"I'll be at graduation to cheer everyone on, and I might be able to come back for prom, but I don't know if I'll be invited," Carter, who recently turned 18, said a couple of days before leaving for Lexington.


"But whenever I try to train here, I never know what I need to work on. I'm on my own, and I don't know how to balance all my work and what areas I need to work on. It's kind of a relief to be able to go there, where I'm working with the team and listening to one person at a time and I can work really hard on what they're saying."


Carter has left her mark on Arkansas soccer, becoming the first Arkansas Rush club player to play in the Southeastern Conference.


"It really is hard to put into words what all Alex has accomplished through soccer," said Matt Mittelstaedt, former technical director of Arkansas Rush. "She has set a standard in Arkansas that will last a long time."


Instead of a club schedule, most Arkansas soccer players play for their high schools during the spring, and Carter said she told her Kentucky coaches she didn't think that experience would get her "completely ready for college." They told her that each year they were able to bring in two or three women a semester early to go through offseason work with the team and invited her to be one of the select few in 2013.


But the Carter family discovered that the Conway School District has a policy of not allowing mid-year graduations, so they petitioned the school board to reconsider.


"We asked them very nicely and told them about how other schools normally let athletes graduate at semester if the college wants them to, and (the board members) did some research and very kindly ended up letting me do it," Carter said.


She learned of the decision in June. Because she was caught up with all her required credits, she just had to take the online equivalent of second-semester senior English through the Florida Virtual School.


Undoubtedly, her stellar academic record made her request easier to grant. She made all A's during her high school career except for a B in painting. Carter wasn't sure what she wanted to study at UK, but her math and science aptitude has helped to narrow the choices.


"I go back and forth between a physical therapist or a structural or civil engineer," she said a few days prior to her freshman orientation. "I'll probably start off majoring in chemistry or physics."


Undoubtedly, her athletic prowess also played a role in her opportunity to go early.


Carter, along with younger sister Marin, was named to the Class 7A all-state team in the spring as the Lady Cats finished state runner-up to Bentonville a year after winning their first state championship in 2011.


But her accolades began long before that.


In 2009, Carter was named to United States Soccer's under-14 Girls' National Team when she became the first Arkansas female to make a national soccer team.


At that time, Jeremey Bernard, director of coaching for the Westside Soccer Club in Little Rock who also coached Carter with Arkansas Rush, said: "She's the real deal. She's one of those kids that comes around every so often. She's just focused.


"You just hope they stay with it."


Obviously, Carter did.


The center midfielder said then her goal was to earn a scholarship to a Division I school. She visited four — Kentucky, Vanderbilt, Texas and Florida — although UK was a bit of a fluke.


"I wasn't even thinking about them, but they sent me an email saying they wanted me to take a visit," she said. "I said, OK, I guess since we're going to Vanderbilt anyway, we'll take a side trip. I thought there was no way I'd go there, but I absolutely loved the school and everything about it, the team — everything.


"It was my first visit, and it ended up that was my favorite place."


Carter played with Rush since she was in eighth grade, including a stint with the boys team.


"My eighth grade year, all my team was a year older and playing high school soccer, so I played with the boys that year," she said. "That definitely helped me. They were quicker and faster and stronger, and I had to learn how to play quick and keep my head up all the time. It made me tougher, too."


Mittelstaedt said it was obvious from the beginning Carter would be a special player.


"In her first year in the club, you could tell Alex had a bright future in soccer," he said. "If she was willing to do the hard work, she would make history for Rush and Arkansas."


In 2010, her Rush under-16 girls team finished runner-up in the National President's Cup tournament. Bernard said then: "This is a huge deal for us and for th
e state because it's the first time a team from Arkansas had ever gone to nationals."


Carter participated in the Olympic Development Program (ODP) from 2008 through 2012 and was selected for the regional team. She has played in Costa Rica, Germany and France.


In high school, she was a member of DBS and Beta Club.


So while her future is bright in the Bluegrass State, she'll leave a close-knit family in Conway a bit early. The daughter of Michelle and Todd Carter, she has two younger sisters — Marin and Abby.


"My family is great and I love them," she said. "I just enjoy being at home. That's never been a bad place for me, so I'm definitely going to miss it, but this is also a chance for me.


"I'm excited I get to grow up and learn how to do things on my own and be responsible for my own stuff. I'll definitely miss (high school), but overall I know it's for the best."