15 Dec 2018

Conway senior center hosts 'Burn the Mortgage' event

Posted at 5:28 PMh

in

News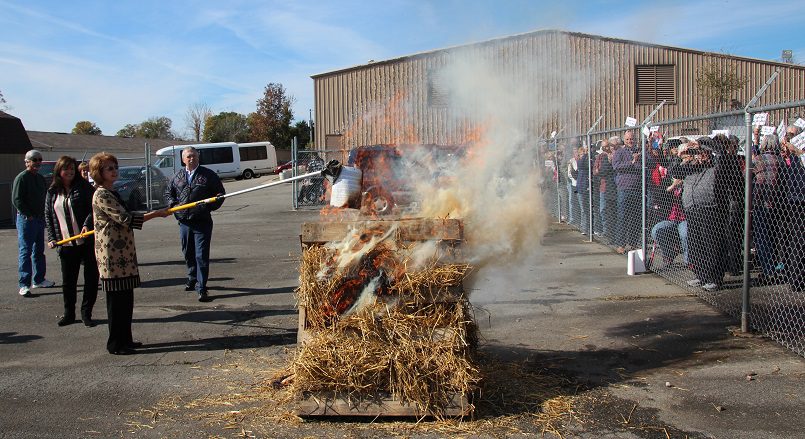 The Faulkner County Council on Aging recently hosted a "Burn the Mortgage" ceremony at the Ola and John Hawks Senior Wellness and Activity Center in Conway.
Seniors, community leaders and donors were on hand for the event, which included a bonfire in the parking lot and a barbecue lunch. The program averages 55 new seniors every month, with 2,600 served each year.
"We are so glad you're here to help celebrate this special occasion," said center director Debra Robinson as she welcomed those in attendance. "We have so many people to thank for making this dream a reality."
Debra said hundreds made donations to purchase the building, with the largest contributors recognized with rooms named for them. The center also features special bricks, hand painted by artist Tim Morris, in the entry which list special contributors. "A special thanks to Tim Morris," Debra said. "He donated many hours to make this place a beautiful and welcoming center."
The campaign to purchase and renovate the building, located at 705 Siebenmorgen Road, began about five years ago with a goal of $2.5 million.
"It started with two great leaders who co-chaired the 'Make it Happen' campaign – Linda Linn and Lori Melton. They did a great job getting us organized and they helped raise a lot of money."
Debra also recognized First Security Bank for its help with the financing. "Johnny Adams and George Baker were great to work with," she said. 
During the ceremony, Debra also recognized fiscal administrator Nancy Rowell and the center staff. "They all go above and beyond the call of duty every day. We're so blessed to have a staff that cares so much."
First Security's Johnny Adams and Conway Mayor Bart Castleberry also spoke at the event, offering their congratulations and recognizing the important place the center has in the community.
According to Debra, the new facility would not have been possible without Ola Hawks and her family. "We would have never attempted this project if she had not made the commitment of her very generous donation. We are so glad that our center bears her name and her husband's name." Ola was presented with a bouquet of flowers and a box of handwritten cards from center participants. "These cards are full of words of people with thankful hearts."
The last $100,000 needed to purchase the building was the hardest, according to Debra. She said a gift from the Robert and Barbara Nabholz Family, with many family donations made in honor of their late Aunt Monica Strack, along with a special "Burn the Mortgage" campaign helped wrap it up.
During the campaign, the person who raised the most was to be presented with "something very special," according to Debra.
"This person raised $15,000 – $100 at a time, just because she said she would put on a dress," Debra said, as she presented a framed picture to Sherri Lachowsky. Sherri is a certified personal trainer with a specialty in senior fitness who leads the fitness programs at the center. "We want to thank you for helping us pay off the mortgage."