20 Jul 2020

Conway Regional's Troup answers COVID questions

Posted at 9:15 AMh

in

News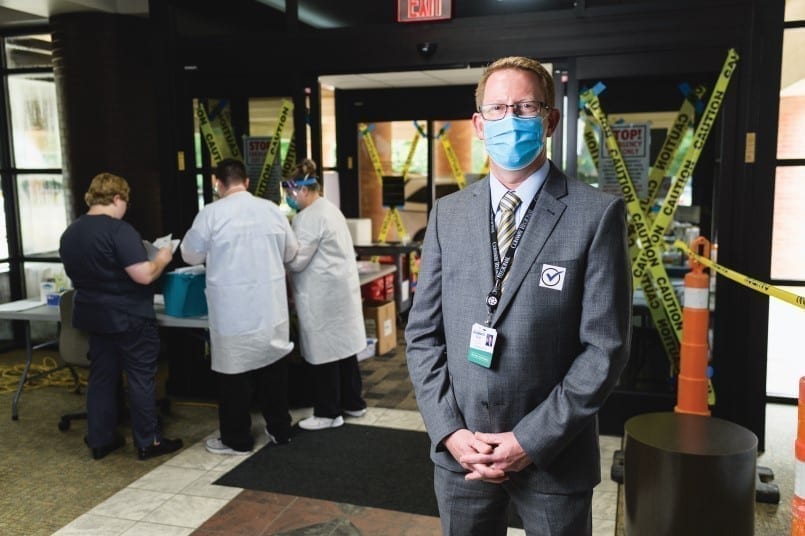 501 LIFE asked Conway Regional Health System President and CEO Matt Troup a series of questions pertaining to the COVID-19 pandemic.
When did COVID-19 hit your radar at Conway Regional? What preparations were made in the past in anticipation of a pandemic?
At Conway Regional, we have a disaster preparedness plan in place to guide our processes during times such as this. The scale of the COVID-19 pandemic has been unprecedented, but we prepare diligently for these situations so that our team is able to act effectively. We closely monitored COVID-19 and implemented many of our protocols very quickly, and I'm proud of our team's adaptability, willingness to serve and passion for protecting our community.
What physical changes took place beginning early March?
We have been the community's hospital for nearly 100 years, and we are committed to be a trusted resource during the COVID-19 pandemic. Our team has stepped up in incredible ways to meet the needs of our community. These include updating our visitor policy to best protect our staff, patients and visitors; starting a drive-thru screening and testing site; implementing telemedicine services for primary and specialty care to ensure continuity; and creating a call center for COVID-19 questions. When the virus first reached our community, we established a daycare for employees and created an onsite exercise facility and staff relaxation room to care for our staff.
We believe that healthcare is local, and it is important to offer services such as drive-thru testing right here at Conway Regional. The drive-thru site was established in close coordination with our medical staff, physician partners and local primary care clinics. It is because of this strong partnership that we are able to offer our community a convenient and effective testing option that protects their safety, as well as the safety of our healthcare workers. We were the first in Conway and one of the first in the state to offer this service. We now offer COVID-19 antibody testing as part of our drive-thru services.
We created an isolation unit, specifically staffed and designed to diagnose and treat possible COVID-19 patients. This greatly reduces the probability of infection and focuses our resources where they are needed most. We also launched a patient liaison service so that family members have a quick, readily available resource to connect them to their family member in the hospital. We've found in COVID-19 an extraordinary opportunity to innovate and remodel care.
How did employees respond?
This is an unprecedented time in our field. However, I couldn't be prouder of the way our team has responded to the challenge. At Conway Regional, it is the very fabric of our culture to answer the call to serve, and a time like this has highlighted that within our staff. As an administrator, when you have your staff stepping up and volunteering, that's something pretty special and indescribable.
How many tests have been conducted onsite?
In our Conway Regional drive-thru testing location, we have performed more than 8,000 COVID-19 tests.
How has the community responded?
We are incredibly grateful for the support we've seen from our community during this time. From meals for our staff to Park & Pray events, we are continuously encouraged by the acts of kindness and generosity we experience each day. It is our community's strong sense of partnership, dedication and compassion that strengthens us through any challenge.
In particular, the Park & Pray events will stay with me long after the COVID-19 pandemic. When I'm asked by community members how to best support Conway Regional during this time, my first response is always prayer. The Park & Pray events that were organized by our community were powerful moments for our team and our patients.
Words cannot express our gratitude for the generosity we've seen from our community, but on behalf of our entire team, I say thank you.
How has Conway Regional been impacted by the pandemic? What have been the biggest challenges?
This has been a time of uncertainty in many areas of healthcare. We continue to see the general public distance themselves from hospitals for fear of infection, and healthcare as a whole is experiencing a real financial hardship. Arkansas Hospital Association's Executive Vice-President Jodiane Tritt, stated that Arkansas hospitals lost $270 million in revenue in March and April. These are challenges felt throughout the industry.
The decrease in volume and revenue has changed roles for many people. We've spent 4.5 years building up our culture, and we've experienced what a strong culture can do in the midst of a pandemic. We are truly seeing what bold, exceptional and called people can do.
We have learned a lot through this process, and with experience comes wisdom. If we do have a second wave of COVID-19, or another pandemic in the future, we will be even more prepared. Our team continues to be innovative, nimble and proactive, and we are always eager to learn and adapt to meet the needs of the communities we serve.
How has COVID-19 changed the health system?
I am immensely proud of our team's adaptability, willingness to serve and passion for protecting our community. We've seen great triumphs specifically in innovation, with our drive-thru testing, COVID-19 call center and telemedicine offerings. Telemedicine was something we had previously talked about but hadn't yet implemented.
We have also seen our team members live our promise each day to be bold, exceptional and called. At Conway Regional, we respond to challenges with compassion, dedication and innovation, and we will continue to adapt to meet the needs of the communities we serve.
What would you say to readers about the remainder of 2020?
Please know that it is safe to visit the hospital. We have seen a concerning trend of people avoiding the ER in times of medical emergency because of fear or uncertainty. Ensuring the health and safety of our community is our top priority, and we have extensive measures in place to protect patients from infection. If you are experiencing symptoms of a heart attack, stroke or other emergency condition, every minute counts, and fear of COVID-19 should not delay your visit to the ER.
For general primary care visits, appointments with a specialist and urgent or after-hours needs, telemedicine offers care from the comfort of your own home. Don't put your healthcare on hold because of COVID-19 — Conway Regional is here for you.