31 May 2022

Conway Regional's $21 million Intensive Care Unit takes the ordinary to the extraordinary

Hospital staff members, donors, Chamber of Commerce members and guests were invited to tour the new intensive care unit at Conway Regional Hospital on May 10 in anticipation of its opening.

"Conway Regional has been the community's hospital for more than 100 years. As we focus on meeting the needs of the communities we serve, our priority is our patients," said Matt Troup, president and CEO of the Health System. "The new intensive care unit will enrich the experience of our patients and their families as we provide additional capacity, convenience, and comfort."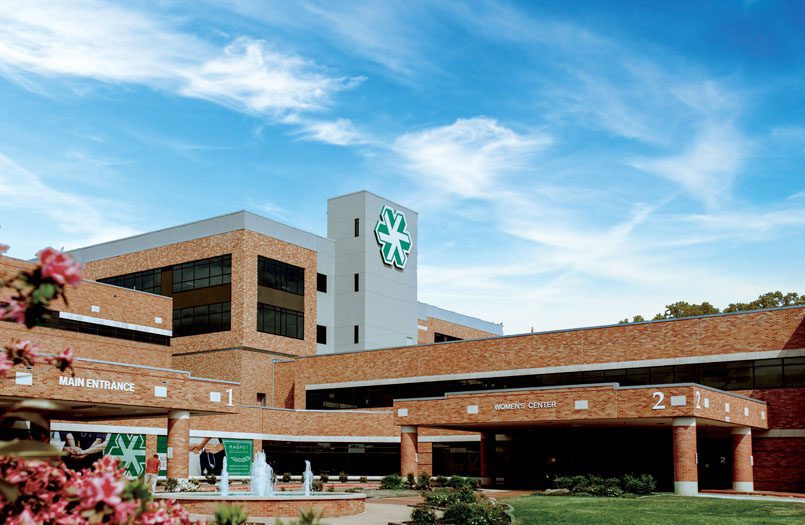 The 65,000-square-foot, $21 million facility is part of the health system's $60 million Growing Together capital investment campaign. It was added above the surgical suite. The new unit expands access to intensive care services for Faulkner County and the surrounding areas, increasing capacity from 17 to 24 critical care beds with room for future expansion.
"I've been here for 28 years, and to come in and see what it's going to be like for patients and their families is really unbelievable," said Bryan Gibbs, chief support officer for Conway Regional Health System.
The new facility includes an impressive 4,600-square-foot atrium, which features a variety of plants, trees, and shrubs. Benches, tables, and ambient lighting complete the serene space to provide visitors and family members with an additional waiting area when visiting patients in the unit. Those using the atrium will occasionally hear the pleasant sound of a bird chirping, a mechanical feature that Gibbs' team added to help visitors feel that they are in a relaxing space, even though they are inside a hospital.
"Some key differences from the current ICU include natural light, which helps families and patients," Gibbs said. "The rooms are a lot bigger, which is nice for families, and we've added state-of-the-art equipment in the rooms. I think it's going to be a game changer."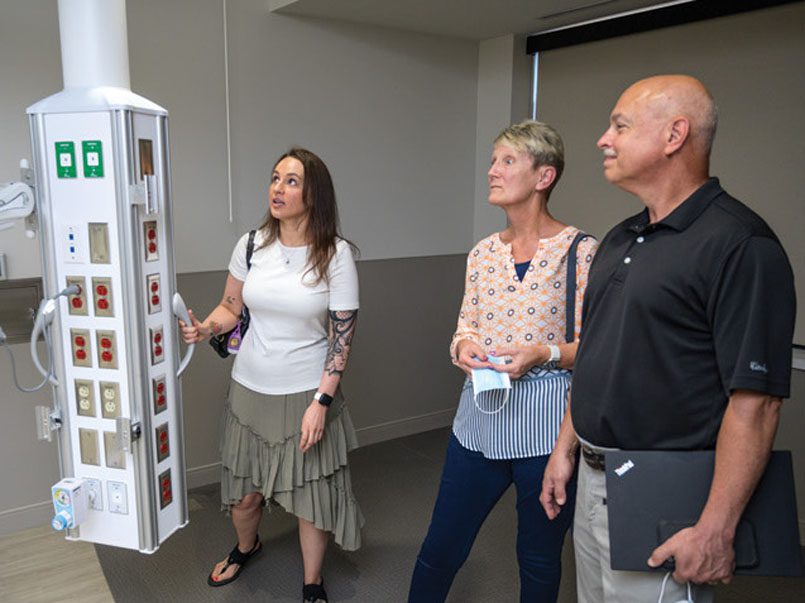 The new 330-square-foot patient rooms provide ample space and feature cutting-edge equipment, ensuring patients receive the highest-quality care. As project donors were given personal tours, they were pleased to see the culmination of a concept they believed in, and donated to, several years ago.
"As somebody who lives a few blocks from here and at my age — I'm almost 74 — this is very important to me and should be to all of us so I'm very, very proud to have this in our city," said donor Bunny Adcock. "There is more room, more technology, and it's new and modern. They are keeping up with the times, and I'm very proud that I can be a part of that."
During the planning and design of the new unit, physicians and staff members utilized a mock-up space to provide insight and guidance, helping ensure appropriate placement of all equipment. Amanda Irby, RN, conducted tours and pointed out comfort features that will help family members who are staying with a critically ill loved one. She has worked for Conway Regional for 20 years and has been director of the ICU for nearly four years. She is also the director of the Emergency Department and Outpatient Interventional Unit.
"From the very beginning, there was discussion with staff," Irby said. "There were nurses that went to other facilities to gather ideas and then met with administration and architects. This whole process, we've had buy-in from nursing staff, patient care techs and physicians because this is their space. They are the ones at the bedside taking care of patients for 12 hours at a time, and we need this space to be usable for them so they can offer the best care for the patients that we're serving."
Some unique features include electrical outlets at a reachable waist level, rather than on the floor; USB charging ports; a mini-fridge; a safe for valuables; and a love seat that makes into a bed. There is also an innovative hanging boom arm suspended vertically from the ceiling that can be swiveled around the bed. It is approximately 3 feet long and has outlets for oxygen, air, suction, cardiac monitors, pulse oximetry, arterial pressure readings, electrical outlets, and USB ports. The state-of-the-art bed can convert to a lift chair, and patients can also receive dialysis in the room.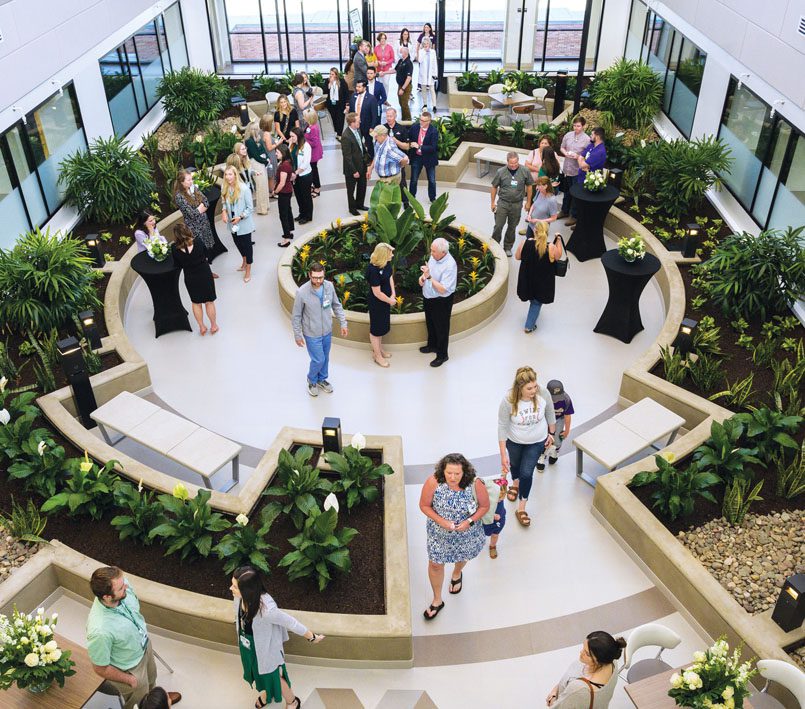 Cromwell Architects Engineers designed the unit, and Nabholz Construction was the general contractor. Brad Hegeman, chief strategist officer with Nabholz, attended the event and spoke about his appreciation for the leadership and staff.
"We've had the fortune to be a long-term partner with Conway Regional Hospital, so I applaud the board and the administration for their vision to continue to invest in incredibly wonderful facilities. That allows the staff to provide excellent service and world class healthcare to Conway and the region."